'What if Hitler wanted to make Germany great?' Candace Owens thumped after old remark goes viral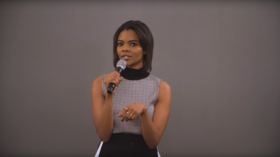 Conservative provocateur Candace Owens has been raked over the Twitter coals after comments she made about nationalism and Hitler during a launch event for Turning Point UK were dredged up by BuzzFeed.
Owens spoke up for nationalism against what she characterized as Americans' knee-jerk association of the term with Hitler, claiming the Nazi leader wasn't a nationalist at all, since he'd set his sights beyond Germany's borders and "wanted to globalize." Her comments, while arguably bizarre, were less a defense of Hitler than a defense of nationalism – answering the question she'd been asked by someone in the audience.
BuzzFeed framed her words as an enthusiastic defense of Hitler, whose only mistake – according to Owens, in their telling – was getting too greedy for lebensraum. The controversy-courting outlet claimed that, in Owens' mind, "it would have been 'fine' if Adolf Hitler 'just wanted to make Germany great' and that the problem with the Nazi dictator was that 'he had dreams outside of Germany.'"
A deluge of attacks from Twitter and the media unsurprisingly followed.
Owens' defenders on the Right immediately pounced on BuzzFeed, accusing them of taking her words out of context,
and attempting to correct the record,
while Owens tried to clear the air with a second video calling Hitler a "homicidal psychotic maniac."
(which her detractors promptly held up as proof of whatever they had already written about her)
Others were reminded of another young conservative who couldn't risk sticking his foot in his mouth about Hitler…
Even Chelsea Clinton stopped by to attack Owens
…who gained a moment of respite by fighting back.
But hey, not everyone disagreed!
Some thought they'd uncovered a grand conspiracy...
…and others wondered if they'd fallen for another kind of conspiracy altogether, having retweeted Owens to the #1 topic on Twitter Friday night.
Also on rt.com
Socialism-bashing Texas Republicans blame 'Leftism' for Holocaust
Think your friends would be interested? Share this story!
You can share this story on social media: