'No wall money': Pelosi draws line in the sand on border budget ahead of potential second shutdown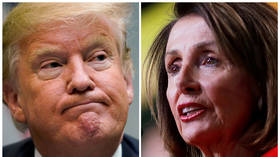 House Speaker Nancy Pelosi declared a pre-emptive victory in her first post-shutdown press conference, sticking to her 'not a dime' position on border wall funding despite the looming deadline.
"Winning is good," Pelosi quipped to a packed House, in a boast more characteristic of her Republican rival. Her victory might be short lived, however, as the leading House Democrat expressed hopes rather than guarantees that a second shutdown would be kept off the table.
On a more practical note, Pelosi announced that a bi-partisan conference committee had been formed to look into compromises on hotly disputed budgeting issues. She emphasized that the committee would be independent and "left to its own devices" in crafting a border security budget proposal.
Also on rt.com
'It's off to the races': Trump vows to move forward with the wall in 21 days, deal or no deal
While the committee proposed thousands of new customs officers, imaging technology and repairs, there is still no compromise in sight on the question of the wall.
"There's not going to be any wall money in the legislation," she bluntly added, before backpedaling somewhat with the vague admission that "some new infrastructure" and more "ports of entry" in "certain localities" are still up for negotiation.
She also called President Trump's proposal to offer DACA protections in exchange for wall funding a "non-starter."
The Democrats, however, are not the only ones sticking to their guns. Trump fired back shortly after the conference saying: "You have so many people coming up from Tijuana Nancy Pelosi will be begging for a wall," suggesting that the matter is far from decided.
Very sadly, Murder cases in Mexico in 2018 rose 33% from 2017, to 33,341. This is a big contributor to the Humanitarian Crisis taking place on our Southern Border and then spreading throughout our Country. Worse even than Afghanistan. Much caused by DRUGS. Wall is being built!

— Donald J. Trump (@realDonaldTrump) January 31, 2019
Pelosi's press conference was the first since the end of the 53-day government shutdown which began last December over disputes on funding a partial-wall along the Mexican border. Ironically, the shutdown itself ended up costing the government an estimated $11 billion dollars, which is nearly twice the $5.7 billion Trump wanted allocated for a wall in the first place.
Subscribe to RT newsletter to get stories the mainstream media won't tell you.
You can share this story on social media: