'Radicalized' man planned to storm White House with BAZOOKA, FBI says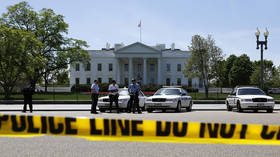 FBI agents captured a young man who allegedly became radicalized and planned to wage jihad by blasting a hole in the White House with a portable anti-tank weapon and massacring everyone inside.
Hasher Jallal Taheb, 21, from the Atlanta suburb of Cumming, Georgia, was arrested during an FBI sting on Wednesday. The man was charged with intent to attack the White House and a number of iconic landmarks in Washington, DC, US Attorney for the Northern District of Georgia Byung Jin Pak told reporters.
The agents apprehended Taheb in a parking lot as he was trying to sell his vehicle in order to buy weapons and explosives, according to the FBI.
The suspect caught the FBI's attention in March after the agency was tipped off that he became "radicalized." In August, Taheb put his vehicle up for sale, and an agent came into contact with him acting as a prospective buyer.
Also on rt.com
FBI arrests ISIS sympathizer for plotting Pittsburgh copycat attack on Ohio synagogues
As the two entered talks, Taheb allegedly shared his plans of waging jihad and becoming a "martyr." He expressed disdain towards the US and Israel, sought accomplices and wanted to eventually attack the White House, the FBI said. He is even said to have shown the agent a hand-drawn map of the White House ground floor and the West Wing, where the US president's Oval Office is located.
In an affidavit filed to the court, the FBI alleged that Taheb sought to acquire semi-automatic firearms, hand grenades and a portable AT-4 anti-tank weapon, commonly known as a bazooka, to storm the White House with. The suspect described how he would use the AT-4 "to blow a hole in the White House" so he could then enter and "take down" as many people as possible, FBI Special Agent Tyler Krueger wrote.
At some point, Taheb also said that he wanted to target the Statue of Liberty, the Washington Memorial, the Lincoln Memorial and a synagogue as well, according to the authorities.
The agents earlier said that during the conversations the suspect also mentioned his desire to travel overseas and join Islamic State (IS, formerly ISIS/ISIL) but didn't have a passport to do that. In July, he applied to get a new passport, saying that he lost the previous one, ABC reported.
The agents believe that he was acting alone and didn't link him to any terrorist group.
Think your friends would be interested? Share this story!
You can share this story on social media: