'Highly detrimental': Shutdown means NASA misses out on 'Super Bowl of astronomy'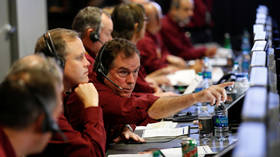 Hundreds of NASA employees won't be attending the American Astronomical Society's biggest conference of the year, dubbed the 'Super Bowl of astronomy,' because of the ongoing government shutdown.
More than 3,000 scientists and astronomers are scheduled to attend the 233rd meeting of the AAS at the Washington State Convention Center in Seattle from Sunday to Thursday. However, the society estimates that between 300 and 450 of those registered have been barred from attending.
The government shutdown is entering its fourth week, meaning more than 380 "non-essential" federal staff are still on furlough or unpaid leave – including around 95 percent of NASA employees.
READ MORE: US transport security workers forced to work for free during shutdown call in sick en masse
There are more than 2,400 lectures scheduled across the five-day conference, many of which were supposed to cover NASA's latest spacecrafts, breakthroughs and mystifying findings. These include early results from NASA's new Transiting Exoplanet Survey Telescope (TESS), which launched in April on a mission to look for alien worlds.
In a statement, ASS officials said the shutdown will be "highly detrimental" to the meeting, "but it is not going to be a devastating impact," thanks to some new measures like allowing co-authors to present and streaming sessions online for registrants.
If federal funding it not restored, "there could be a lot of empty poster boards, missing oral talks," said Kevin Marvel, AAS executive officer, according to the Washington Post. "It's just going to be a mess".
READ MORE: NASA rescinds invitation to Russian space chief amid pressure from US lawmakers
Empty seats aside, the fact that America's leading scientists cannot discuss pressing issues in the fields of technology, space exploration, and climate change for weeks on end will affect more than just the conference, said Keith Seitter, executive director of the American Meteorological Society.
"That's difficult to recover from," said Seitter. "We'll be seeing ripple effects from this for a long time."
Like this story? Share it with a friend!