Trump orders creation of Space Command to advance US military space ops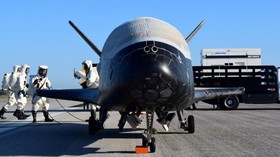 Donald Trump has issued an order for the Department of Defense to create a Space Command to oversee and advance the US military's operations in space.
The US President put his signature under a one-page memorandum to set up the command on Tuesday.
The new body will be aimed at better organizing the military's operations in space, speeding up technical advances and helping to protect US satellites and other assets in space. The US military has far reaching plans in space as around $800 million is to be invested in the field over the next five years.
In order for the Space Command to be created the Defense Department would have to gather various space units from different military services into an independent organization, sources told AP earlier. They warned that it won't happen fast, describing the process as "long and complicated", while the currently existing US Air Force's Space Command would become the cornerstone of the new body.
Also on rt.com
Mars & Moon bases for military? Elon Musk 'likes' Trump's Space Force plan
There'll be 11 combatant commands in the US military after the introduction of the Space Command. The new organization will join the ranks of Central Command, overseeing military operations in the Middle East, Special Operations Command, in charge of Special Operations Forces, the Cyber Command, directing cyberspace operations, and others.
The Space Command is separate from Trump's ambitious goal of putting together a "Space Force," which the US leader voiced earlier this year.
READ MORE: US needs 'offensive weapons in space' for self-defense, Mattis claims
The US military already had a Space Command from 1985 to 2002, but it was axed in order to focus resources on fighting terrorism.
Think your friends would be interested? Share this story!
You can share this story on social media: