Pompeo blasted for hypocrisy on Twitter after saying Russia 'squandering' public funds on military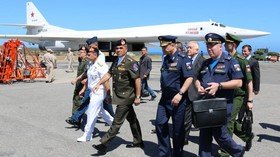 A tweet posted by US Secretary of State Mike Pompeo condemning the landing of two Russian bombers in Venezuela as a "squandering" of public money, has quickly backfired, with many eager to point out some glaring hypocrisies.
Russia sent the two Tu-160 strategic bombers on the 10,000km trip to land at Simón Bolívar International Airport on Monday in a show of support for the government of President Nicolas Maduro, which has repeatedly expressed concerns that the US is trying to topple it.
Maduro on Sunday warned of an effort "directly coordinated from the White House to disturb democratic life in Venezuela" and a possible "coup" against the government.
Pompeo eagerly denounced Russia for sending the bombers "halfway around the world," writing that it amounted to "two corrupt governments squandering public funds, and squelching liberty and freedom while their people suffer."
But the responses to the tweet were probably not quite what Pompeo anticipated, with many noting that the US has been known to send its own bombers around the world without much consideration for national boundaries and international law.
Others pointed out that the US not only sends its own bombers wherever it wants but actually has hundreds of bases for them all over the world.
Some noted the US' support for the devastating Saudi-led bombing campaign in Yemen, suggesting that Pompeo had little credibility expressing concern for people's suffering in other countries while Washington still supported such activities.
Others pointed out that the Russian military budget is actually very small in comparison to the $750 billion that US President Donald Trump has signed off on for 2020, despite increasingly unmanageable national debt and ongoing debate over the ability to afford public healthcare.
The Kremlin itself was also quick to respond to the tweet, with spokesperson Dmitry Peskov noting that the US military budget "would be enough to support all of Africa."
Like this story? Share it with a friend!
You can share this story on social media: