Rosie O'Donnell wants 'madman' Trump to 'rot in jail' over alleged comments on US national debt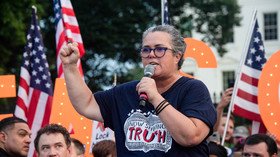 Actress and former co-host of The View Rosie O'Donnell has lashed out (again) at US President Donald Trump, calling him a "madman" who deserves to "rot in jail" over his alleged indifference to the country's growing national debt.
O'Donnell was tweeting in response to a report in the Daily Beast which claims that Trump has expressed apathy over the $21 trillion (and climbing) national debt because he won't be around when it explodes to an even more untenable number.
O'Donnell used the hashtags #TrumpCrimeFamily and #MuellerIsComing in the angry tweet — a reference to special counsel Robert S. Mueller's investigation into alleged collusion in 2016 between the Trump campaign and Russian officials.
The Daily Beast report describes a 2017 meeting between Trump and senior administration officials. When Trump was shown charts and graphics laying out how the national debt would likely spike massively in the coming years, the president reportedly responded: "Yeah, but I won't be here."
It's not the first time O'Donnell has vented her anger at Trump on Twitter. In fact, that two have been in a long-running feud and have exchanged vitriolic insults over the airways and on Twitter multiple times.
O'Donnell has also called Trump "evil," a "snake-oil salesman" and suggested that he has a "very serious mental disorder." The actress was so disturbed by Trump's victory in 2016 that she admitted she got "physically sick" on election night.
Trump has not held back on the insults, either. He has previously called the actress a "real loser,""fat little Rosie,""a total trainwreck" and a "complete and total disaster."
Like this story? Share it with a friend!
You can share this story on social media: