K-9 conundrum: Police dog struggles to get to grips with new winter shoes (VIDEO)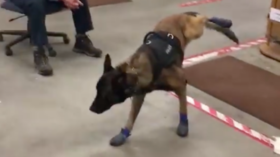 A police dog's battle with its new snow shoes is melting hearts across the internet, thanks to an adorable viral video shared by Rapid City police.
The Rapid City Police Department in South Dakota fitted police dog Jary with new cold-weather booties and shared the hilarious results on social media, where it soon clocked up 1.6 million Facebook views and 290,000 on Twitter.
Poor Jary appeared to forget how to walk once the shoes were on, raising each of his legs in a comical manner as his colleagues watched in amusement.
The police pooch keeps moving his hind legs in an exaggerated fashion, lifting them way higher than necessary as he tries to get the hang of his new booties.
This is honestly the cutest yet funniest video ever! 😂💓

— Hannah Giammarino (@HannahGiamm3) December 8, 2018
New shoes are always tough to get used to!

— RJ (@RFleigle) December 8, 2018
When an officer gives him a toy to play with and fetch, his walking improves, but only slightly.
"It's cold out there, which means making sure all our officers are equipped for the chilly weather; even the furry ones!" the police wrote on Facebook. "Looks like K9 Jary's new snow boots are going to take some getting-used-to…"
Also on rt.com
Wrath of the roo: Aussie man saves beer despite savage kick from kangaroo (VIDEO)
Like this story? Share it with a friend!
You can share this story on social media: