Wrath of the roo: Aussie man saves beer despite savage kick from kangaroo (VIDEO)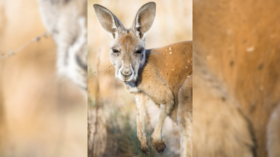 Australia has produced another viral internet hero after footage emerged of a Victoria man saving his dogs from a cantankerous kangaroo, while somehow managing to hold onto his beer.
Daniel Tuohey of Bendigo in Victoria, Australia suffered deep cuts and bruises Thursday as a result of the marsupial mauling. His daughter, Bree, captured the horrifying yet hilarious moment on camera.
"I was just hoping that it didn't go any further than what it did, I was a bit shocked, it was very scary, I'm not sure what I would have done if it had have kept going," she said afterwards.
Her video has already amassed over 300,000 views at time of writing.
"There is a fair chance that the dogs were going to get drowned, because a kangaroo will grab dogs in the dam, pull them in and drown them, that is what I was worried about, that was my main concern," Daniel Tuohey told 9News.
Also on rt.com
Raging roo: Woman savagely beaten by massive marsupial
Tuohey has been praised online for not sacrificing his can of beer, known locally as a 'stubby' while saving his dogs from the wild animal.
Think your friends would be interested? Share this story!