'Bringing Satan to Springfield!' Satanic Christmas monument erected in Illinois statehouse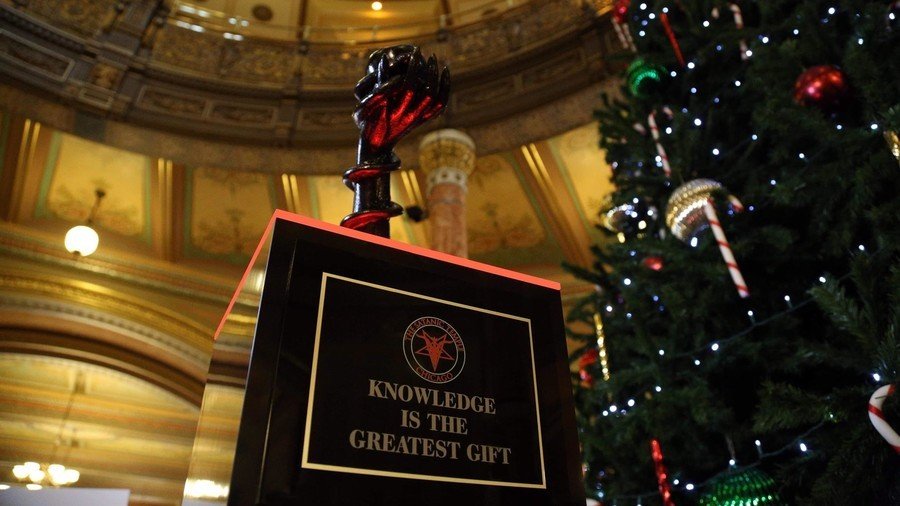 Amidst the Christmas trees and Hanukkah menorahs, the Illinois Capitol is decked out with an unusual decoration this festive season: a black snake sculpture from the Chicago branch of The Satanic Temple.
The sculpture, named 'Snaketivity,' depicts a coiled snake wrapped around an arm holding an apple, a symbol of knowledge. A plaque under the piece bears the inverted pentagram of the Temple of Satan, and the text: "Knowledge is the greatest gift."
Installing a Satanic sculpture wasn't the decision of Illinois lawmakers. A sign near the installation explains that under the First Amendment, the state of Illinois must allow temporary displays in the Capitol building, as long as they are not funded by taxpayer dollars.
The installation was crowdfunded by The Satanic Temple, with the GoFundMe page reading "please consider what you may do to help us bring Satan to Springfield!"
Despite what the name might suggest, The Satanic Temple does not worship a horned, red-skinned devil. Rather, the group promotes freedom of speech and campaigns against organized religion in general. It installs statues and artwork in public spaces to spread its message.
"We do not promote a belief in a personal Satan. To embrace the name Satan is to embrace rational inquiry removed from supernaturalism and archaic tradition-based superstitions," the organization said.
The satanists' message was lost on some people. Angry comments on the Temple's Facebook post warned that God "will not allow this trash much longer," and advised people liking the post to "read your bible."
"Chicago truly has gone to hell," another wrote.
The Temple's festive stunt is not its first. In August, the group displayed a seven foot bronze statue of goat-headed deity Baphomet on the lawn of the Arkansas State Capitol in Little Rock. The group erected the statue to protest a display of the Ten Commandments installed by a Republican state senator one year beforehand.
As well as worshipping the First Amendment, The Satanic Temple venerates the holy concept of US copyright law. The temple settled a lawsuit with Netflix last month, after the makers of the show 'Sabrina' featured an unauthorized copy of their Baphomet statue. The Satanists argued that the show painted the winged, horned demon creature in a bad light, misrepresenting it as "unholy."
Think your friends would be interested? Share this story!
You can share this story on social media: