RIP Tumblr? Blogging site plans ban on porn, users outraged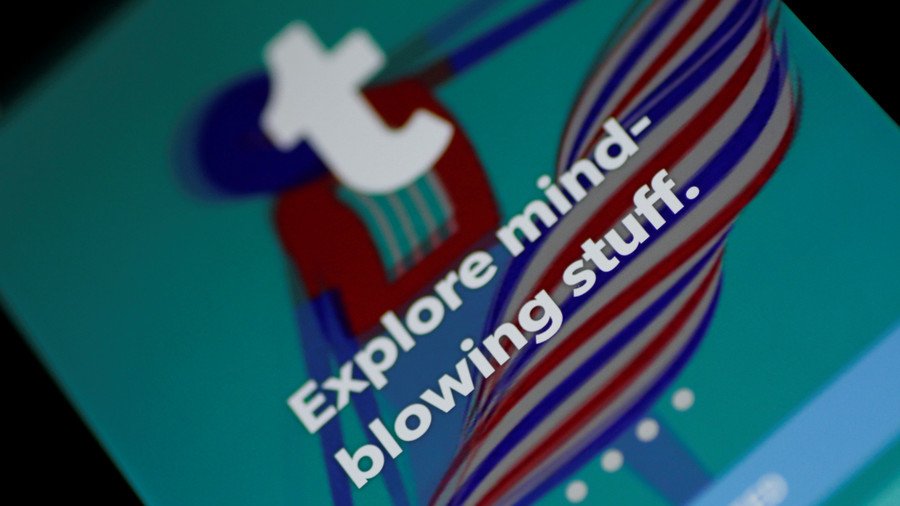 Blogging site Tumblr may be best known as a hotbed of social justice and safe-space culture, but it's also chock-full of porn. That's all changing though with the site banning adult content after a recent child porn controversy.
The ban will come into force on December 17, and will cover a wide spectrum of sexual content. "Photos, videos, or GIFs that show real-life human genitals or female-presenting nipples, and any content—including photos, videos, GIFs and illustrations—that depicts sex acts" will soon be banned from the platform, according to a statement from Tumblr.
Some exceptions will be made. Nipples will be a-okay as long as they're shown in connection to breastfeeding or birth, post-operation shots of transsexual genitals are also cool, as are erotic stories, art and political statements involving nudity. Everything else will be flagged and deleted by the site's algorithms.
Tumblr's puritan turn didn't come out of nowhere. Tumblr's app was removed from the iOS App Store two weeks ago, after child pornography was discovered on the site. The network apologized for allowing the child porn to slip past its content filter, but the app remains unavailable.
"We've given serious thought to who we want to be to our community moving forward," CEO Jeff D'Onofrio said in a blog post. "We've realized that in order to continue to fulfill our promise and place in culture, especially as it evolves, we must change."
The masses haven't welcomed the change, however. Twitter has been flooded with hundreds of thousands of comments, most of them outraged.
Lmao without porn on it Tumblr is just gonna be full of bad fan art and 14 year old queers denouncing each other as transmedicalist truscum

— shon faye. (@shonfaye) December 3, 2018
Re: Tumblr, can you imagine being so bad at content moderation that literal child porn winds up on your platform and your response is, "Let's ban nipples!"

— Cora Harrington (@lingerie_addict) December 3, 2018
tumblr getting rid of "adult content" is like spotify getting rid of music

— Keith Calder (@keithcalder) December 3, 2018
Founded in 2007, Tumblr's lax content moderation made it a popular place to share pornography and lewd content. The platform also became popular with photographers, creatives, and social-justice activists discussing woke concepts such as 'white privilege,' 'cultural appropriation,' and 'gender fluidity.' That sector of Tumblr's user base also hit out at the porn ban for their own reasons.
So @tumblr is deciding to ban "adult content" (which will harm NSFW artists and sex workers) on their website starting on International Day to End Violence Against Sex Workers. Cool. pic.twitter.com/jdSRkLfjFI

— Eliel Cruz (@elielcruz) December 3, 2018
Tumblrs allowance of adult content is EXACTLY why I felt more comfortable openly expressing myself on that platform. I am not as openly trans as I wish and tumblr gave me a place to explore express and accept that part of me not only through my own nsfw art but others experiences pic.twitter.com/IEmFGH6HEJ

— Nobody Rad (@nobody_rad) December 3, 2018
If Tumblr's users are right, then the writing could be on the wall for the porn-friendly blogging site. D'Onofrio seemed unperturbed, writing in a blog post that porn users have "no shortage" of other sites to visit.
While there is, indeed, no shortage of porn sites on the internet, few encourage creativity and interactivity is usually limited to comments below videos left by viewers with one-track minds and a tenuous grasp on the English language. Some users pondered making the move to Twitter, but Twitter prohibits most adult content, and hands out bans fairly freely.
Ironically, an alternative found by commenters is the infamous 'internet cesspool,' 4Chan. With few rules, 4Chan allows almost any kind of image to be posted, save for child porn or other blatantly illegal content. An influx of Tumblr refugees might not please 4Chan's anonymous user base of trolls and "weaponized autists" though, as those have been engaged in an on-off prank war with Tumblr for several years.
Like this story? Share it with a friend!
You can share this story on social media: