Just like a real riot: US border cops stage massive readiness drills (VIDEO)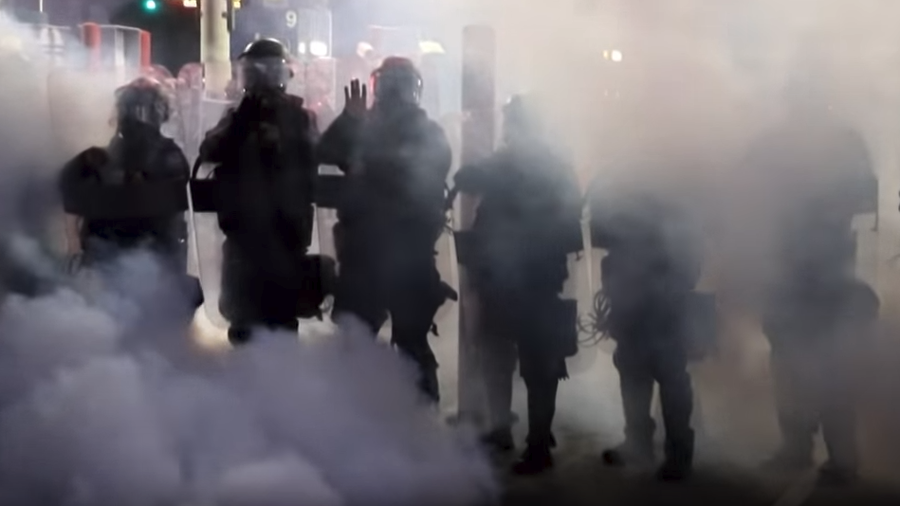 Dozens of US Customs and Border Protection officers in full riot gear have been marching, running and tossing fake tear gas amid loud bangs, as they trained to repel illegal immigrants trying to enter the country.
The drills, conducted on Saturday, created a truly apocalyptic sight, complete with white smoke and loud bangs.
Traffic at the Otay Mesa Port of Entry was halted for around ten minutes and led to increased waits for travelers planning to cross border.
CBP officials said that the massive readiness exercise was "necessary." A similar exercise, held at the San Ysidro Port of Entry on Thanksgiving Day, also saw a temporary closure of the border.
Also on rt.com
US border patrol repels migrants with tear gas after Mexico crossing closure
A week ago, the US border guards used tear gas to prevent hundreds of migrants from illegally crossing into California at San Ysidro.
Around 8,000 Central American asylum seekers currently remain on the Mexican side of the border, causing havoc in Mexico's Tijuana as they wait for their applications to be considered by US authorities.
READ MORE: 'They are criminals!' Tijuana mayor threatens to sue migrant caravan organizers
The arrival of the migrant caravan has led to beefed-up security along the entire US-Mexico border, including the deployment of over 5,000 troops as President Trump vowed to use force to prevent the caravan's participants from making it to America.
Think your friends would be interested? Share this story!
You can share this story on social media: