White swastikas spray-painted on Black Panther mural sparks hate crime probe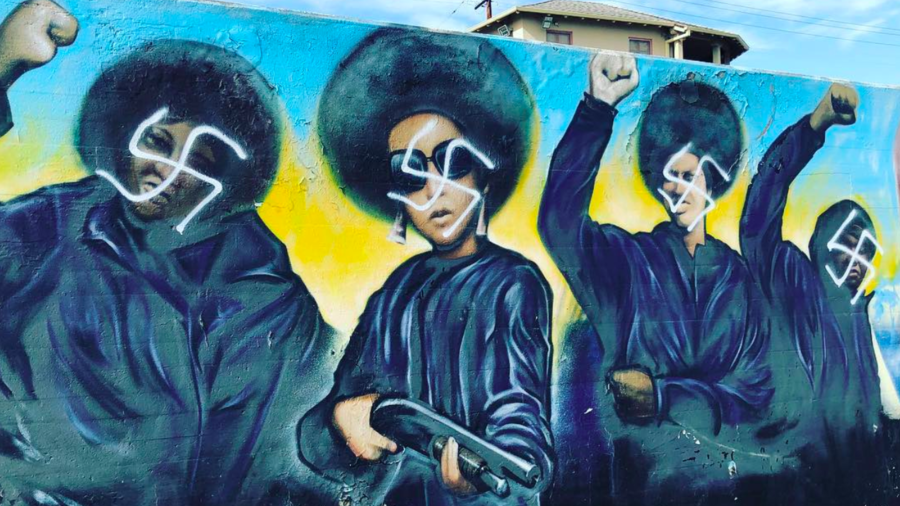 White swastikas were sprayed across the faces of Black Panthers depicted on a mural celebrating African American history, sparking a potential hate crime investigation in Los Angeles.
The Nazi-linked logos were spray-painted over the faces of four Black Panthers painted on the longstanding Crenshaw Wall mural in southwest Los Angeles.
"We will find you and we will prosecute you," Los Angeles Police Department Captain Alex Baez said, NBC4 reports. The LAPD said it believes the defacement was an isolated incident and no arrests have been made.
Within hours, the community had removed the swastikas, and artist Enkone Goodlow, who first painted the Black Panthers, retouched the faces. "I was hurt because that portion of the mural has never been defaced," he told KABC.
UPDATE: The swatiskas that defaced a Black pride mural on Crenshaw Blvd. in #SouthLA have been removed by the original artist Enkone of the Rockin' the Nation and the community. Good job! pic.twitter.com/vfZYm1K1fW

— Jasmyne Cannick (@Jasmyne) November 29, 2018
The 'Our Mighty Contribution' mural stretches along two blocks on Crenshaw Boulevard, across the street from a high school, and features a number of prominent black Americans like Harriet Tubman and Martin Luther King Jr.
"They targeted the Black Panthers and they did this to make a statement," local producer Gregory Everett told LA Taco News. "And we showed them that we didn't even let this stay up by the time the kids got out from school at Crenshaw High to see something like this."
Think your friends would be interested? Share this story!
You can share this story on social media: