A girl at mom's, a boy at dad's: 'Transgender' Texas child caught in custody battle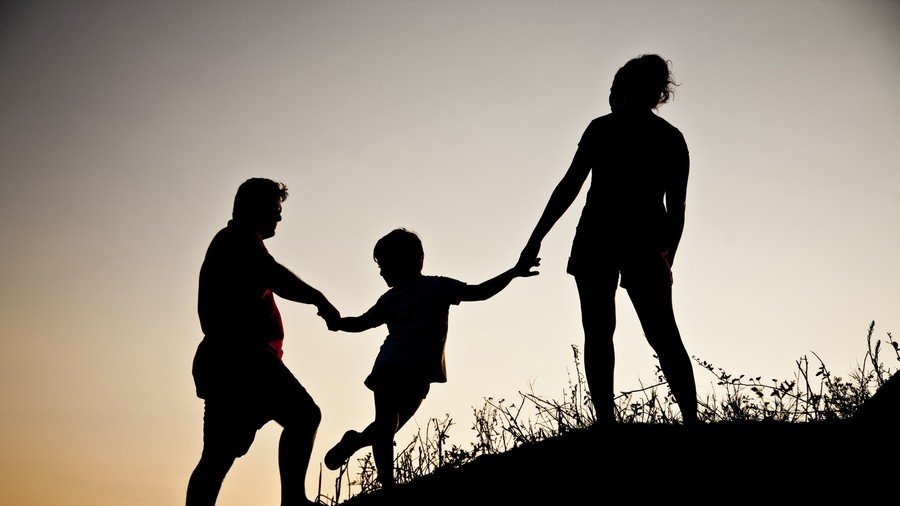 In Texas, a six-year-old boy is being torn apart by the transgender debate. James' mother thinks he's a girl, but he acts like a normal boy at his father's house. Now she's accusing him of child abuse. Welcome to 2018.
Divorce is tough on children, but especially so for six-year-old James Younger. When he's with his father, Jeff Younger, James is a normal boy. He dresses like a boy, hangs out with other boys, and refers to himself as a boy.
When he's with his mother, Anne Georgulas, James lives as a girl called Luna. Since he expressed an interest in wearing girls' clothes, Georgulas a pediatrician, began referring to him exclusively as 'her,' enrolled him in school under his female name, encouraged him to cross-dress, and took him to a sympathetic "rainbow counsellor" who lists working with transgender children as one of her specialities.
Predictably, the therapist diagnosed James with gender dysphoria – a conflict between a person's biological sex and gender identity. The diagnosis has given Georgulas ammunition to fight for permanent custody of James and she has threatened to terminate his father's parental rights.
If Georgulas wins, James' therapist will assist him with his transition, eventually giving him access to puberty-blocking hormones and gender-reassignment surgery. However, court documents reveal that the diagnosis is shaky at best. When asked to point to whichever name he prefers, 'James' or 'Luna', the boy's answer differs depending on which parent he is with at the time.
Gender dysphoria requires that a child be "persistent, consistent, and insistent" about identifying as the opposite sex, transgender author Walt Heyer wrote in the Federalist. A simple interest in crossdressing is not gender dysphoria, according to the American Psychiatric Association.
This is the inevitable result of forcing transgender ideology on people & punishing us if we don't adhere.A Dad in Texas is threatened with losing his son if he doesn't dress the 6yo boy as a girl. https://t.co/oNfISZ8FE6

— Liz Wheeler (@Liz_Wheeler) November 26, 2018
The inconsistency of James' identity hasn't stopped his mother from fighting his father tooth and nail. Georgulas is accusing Younger of child abuse, for cutting James' hair and "other non-affirming actions." She has sought to forbid Younger from using male pronouns for James, demanded that Younger attend transgender awareness classes, ordered him to pay for James' "rainbow counselling," and filed for a restraining order.
In her application for the restraining order, James' mom told the court that she fears his father will try enrol him in "man's" sports, and worries he will "out" Luna as his son at elementary school events.
In an email to Younger, Georgulas accused the father of bullying his son by cutting his hair.
"I also request that you stop bullying Luna on FaceTime. When you ask if everyone at her school liked her haircut, you probably noticed she didn't answer. She herself does not like her haircut. Please stop making her feel worse about herself than you already have," Georgulas wrote.
The court has already prohibited Younger from forcing his child to dress as a boy. He insists that he isn't forcing anything, and that James wants to be James. Family friends have weighed in on the father's side.
"Based on the three occasions I've spent time with him, I'd say he acts and looks unmistakably like a healthy six-year-old boy," a local Christian pastor wrote. "I am praying for James, an average six-year-old boy, a sweet-natured, intelligent, lovable and at this point particularly vulnerable young man, caught up in a titanic clash of worldviews."
Another family friend, whose children James plays with, agreed. "He specifically and happily referred to himself as a boy," the woman wrote.
Nevertheless, James may be facing chemical castration as soon as he turns eight, if his mother has her way. The willingness of doctors and therapists to provide this therapy to children has been called"institutionalized child abuse" by Dr. Michelle Cretella, executive director of the American College of Pediatricians.
"If you have a child as young as three who is confused about their sex, and the treatment involves changing their name and their dress...in the process, you are indoctrinating all of the children around them...we're not just stopping the body developing, we're also permanently affecting the brain," Dr. Cretella said.
Feelings of regret are common among transgender people who have undergone surgery, urologist Miroslav Djordjevic told Newsweek last year. In his own practice, Djordjevic refuses to operate on anyone who has not undergone two years of psychiatric evaluation and therapy. This process is vital, he said, as post-surgery transsexuals experience significantly higher rates of suicide and mental illness than their cisgender counterparts.
Allowing children to change their gender, British psychotherapist Bob Withers wrote recently, "is being done, almost unchallenged, in the name of transgender rights. But in 20 years' time, I believe we will look back on this folly as one of the darkest periods in the history of modern medicine."
James' identity, and possibly his life, now hangs in the balance. Caught in the center of the culture wars, the boy's future depends on how the court in Dallas rules.
Think your friends would be interested? Share this story!
You can share this story on social media: