'Mostly men, some not seeking asylum': Migrant caravan reporter appears to bust MSM narrative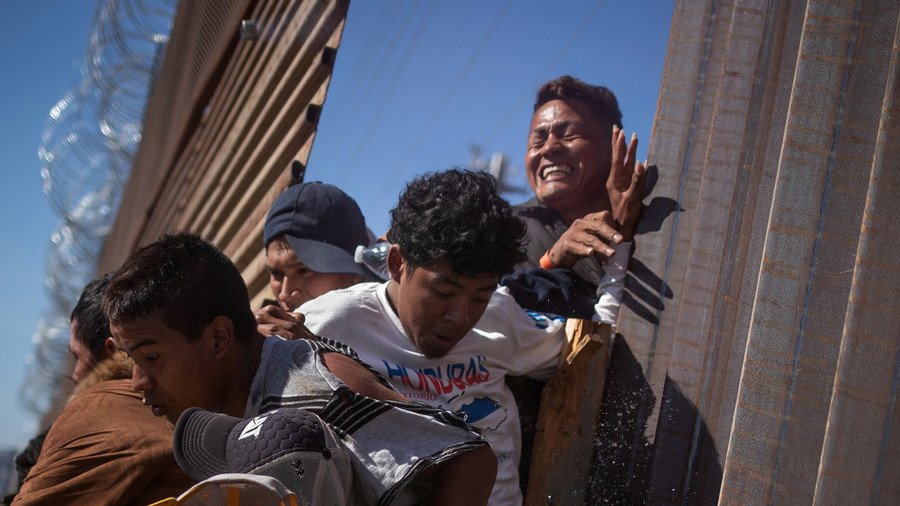 On a day dominated by news of US border patrol agents teargassing women and children, one MSNBC reporter seemingly went against his network's narrative by saying that the caravan is mostly male and looking for work, not asylum.
After suspending all traffic at the US' busiest port with Mexico, border patrol guards had to resort to tear gas to fend off migrants trying to breach the border wall on Sunday. After one group forced a gap in the border fence, border patrol pushed them back with tear gas and pepper spray, and the migrants lobbed rocks at the US agents in response.
Images of women and children fleeing tear-gas canisters quickly did the rounds on the news, and the mainstream media went into outrage mode.
READ MORE: https://www.rt.com/usa/444981-trump-grabbers-in-migrant-caravan/
"Some people look at these images and they listen to the president, who says, 'It's not women and children, it's stone cold criminals,'" MSNBC anchor Stephanie Ruhle said to reporter Gadi Schwartz, on the ground with the migrants in Tijuana, Mexico. "Give us the profile of who's there mostly and what they're looking for," she asked.
Schwartz then led a cameraman on a walking tour of a migrant encampment, revealing that most of the migrants are men, and not all are refugees.
"You're going to see a lot of families here, a lot of women and children, but the truth is the majority of the people that are part of this caravan… the majority of them are men," Schwartz explained.
"From what we've seen, the majority are actually men, and some of these men have not articulated a need for asylum," he continued. "Instead, they have talked about going to the United States for a better life and to find work."
Schwartz then reported seeing around 600 men lining up at a food bank in the encampment.
President Donald Trump has characterized the multiple 'caravans' of migrants heading toward the US border as an "invasion," and threatened to close the US' southern border "permanently if need be." He has also said that the group of migrants is made up of some "stone cold criminals" and lambasted parents in the caravan for bringing children to a dangerous confrontation at the border fence.
Despite Schwartz's reporting, MSNBC remained committed to the narrative focusing on women and children.
"You've all seen the pictures," anchor Ali Velshi told viewers on Monday. "Toddlers in diapers, running for their lives, some of them barefoot. Choking on tear gas. Tear gas that was shot by Americans."
On Twitter, the conservatives weren't buying it. "He reported the truth," one commenter said. "Expect him to be reporting sports in Shady Grove, Alaska real soon."
Moving towards the US border in a thousands-strong caravan, the migrants' journey became a political hot button in the runup to this month's midterm elections. Even after the elections, President Trump sparred with the media over his description of the caravan as an "invasion."
CNN reporter Jim Acosta had his White House press pass revoked when he argued with Trump at a post-midterm press conference. Acosta insisted that the term "invasion" was wrong, and argued that the migrants would not be climbing over the border fence.
Like this story? Share it with a friend!
You can share this story on social media: