Trump says he 'does not know anything' about Assange, gets called out on hypocrisy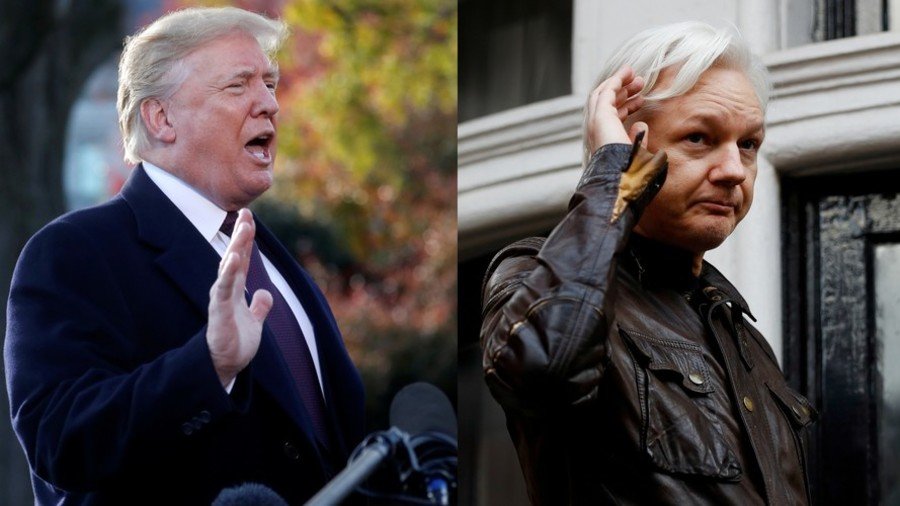 President Donald Trump said he doesn't "know much" about WikiLeaks co-founder Julian Assange, dodging a reporter's question on whether the editor should go free. The claim follows reports that the US has secretly charged Assange.
Speaking to reporters at the White House on Tuesday, Trump produced a stunning claim, saying that he has a very superficial knowledge about the most famous self-exiled fugitive in the world.
I don't know anything about him. Really, I don't know much about him. I really don't.
President Trump is asked, "Should Julian Assange go free?"Trump: "I don't know anything about him. Really. I don't know much about him. I really don't." pic.twitter.com/3RT12rAaB9

— Andrew Blake (@apblake) November 20, 2018
Trump was answering a question from a reporter, who asked whether Assange should be let off the US justice hook. It came after Assistant US Attorney Kellen S. Dwyer appeared to have accidentally revealed that Assange has been already charged in the US.
According to the court documents released by WikiLeaks last week, Dwyer has asked a judge to keep charges against Assange sealed. The request was found in an unrelated case handled by the US attorney's office in the Eastern District of Virginia and was an apparent tell-all cut-and-paste error.
READ MORE: US 'secretly charged' Assange, prosecutor accidentally reveals – WikiLeaks
Assange, who has been living in Ecuador's embassy in London since 2012, fears that he might be extradited to the US and tried on charges relating to the disclosure of 750,000 classified US military documents by Chelsea Manning in 2010. The troves of released documents exposed abuse and indiscriminate killings by US soldiers in Iraq, including videos that showed US troops shooting down civilians.
Trump's alleged ignorance about the WikiLeaks founder has immediately come under intense scrutiny. Footage of Trump mentioning WikiLeaks over 140 times at campaign events in the run-up to 2016 election has resurfaced, prompting Twitter folk to accuse him of being insincere at best.
While on the campaign trail, Trump repeatedly praised WikiLeaks for dumping thousands of Democratic National Committee (DNC) emails, which revealed that the DNC was prejudiced in favor of Clinton.
"WikiLeaks, I love WikiLeaks," Trump said at a rally a month before the election. "Boy, I love reading those WikiLeaks," he said four days before the vote.
Trump has repeatedly denied any collusion with WikiLeaks, as well as Russia, blaming the "dishonest media" for linking him to Assange.
You can share this story on social media: