Trump mocked for exclamation point frenzy in statement on Saudi Arabia & Khashoggi murder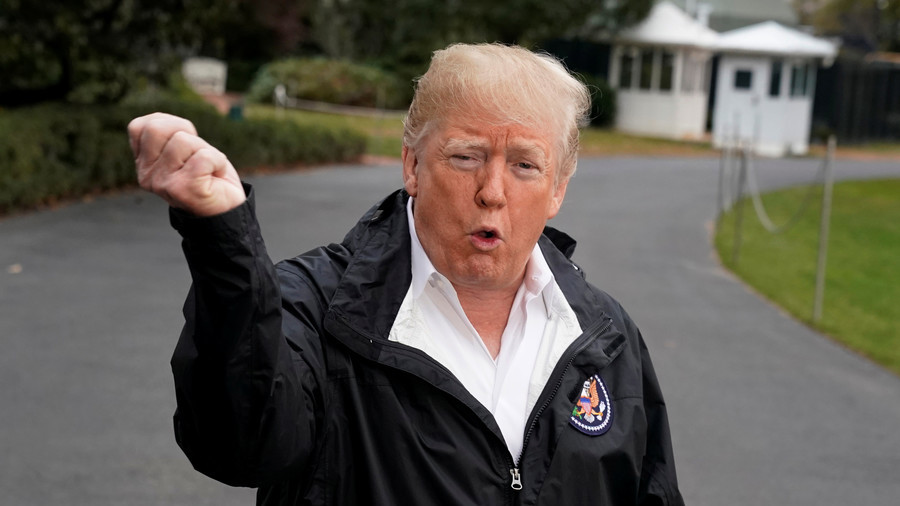 It's often assumed that statements from the US president are drafted and edited by writers, but Trump's most recent public release seems to read just like his tweets – and the internet was quick to tear it apart.
The statement explains Trump's decision to stand with Saudi Arabia despite the murder of journalist Jamal Khashoggi, citing its role in combating terrorism and the $450 billion that Riyadh agreed to spend in a historic arms deal.
But the president's favorite method of communication was used against him once his critics on Twitter realized that the statement was full of apparent Trumpisms.
READ MORE: MbS 'could very well' have known of Khashoggi killing, but Saudi Arabia still a 'great ally' – Trump
One person was quick to point out the excessive number of exclamation marks used in such a short statement – eight to be exact. This, he said, was almost certainly proof that Trump wrote it himself, given his love for that particular form of punctuation.
Another said it reads like a YouTube comment, which aren't exactly known for their excellent use of grammar and spelling.
One person said Trump exhibited "third grade reasoning and vocabulary" in his statement, then apologized to primary school children everywhere if he offended them.
Others suggested the content of the statement was written by someone else, with Trump's only contributions being the exclamation points.
Some just pointed to the general strangeness of the statement, with the words "bizarre,""unusual," and "embarrassing" being popular adjectives to describe the text.
Of course the whole thing led to some memes about Trump's overall intelligence.
Iran's foreign minister Javad Zarif also called it "bizarre" that Trump's statement mostly focused on Iran being an enemy of the US, rather than on Saudi Arabia. He then went on to suggest that perhaps Trump also thinks Tehran is responsible for the forest fires in California, and mocked an earlier statement in which the US president appeared to think that combating the flames was as simple as keeping forests tidy with a rake.
Like this story? Share it with a friend!