Outrage over swastika: Vandals defile mural honoring victims of Pittsburgh synagogue attack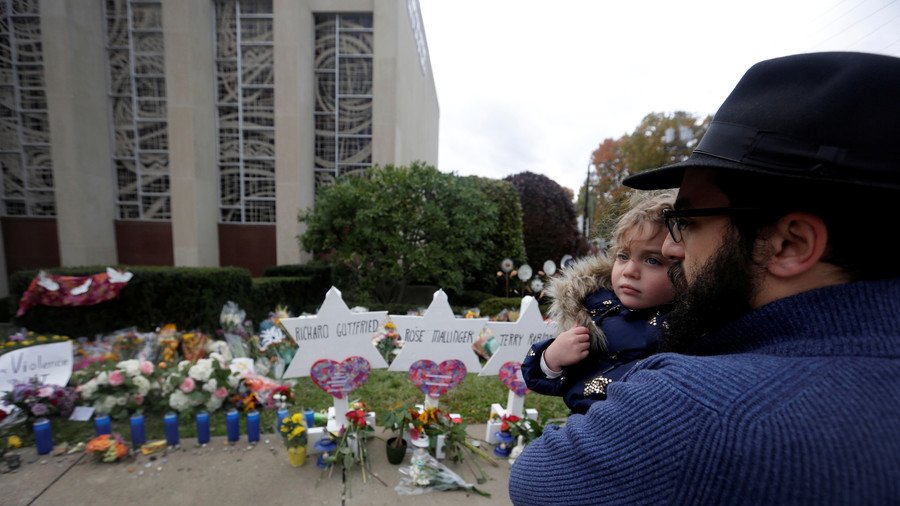 Widespread anger was sparked at Duke University, North Carolina after a red swastika was painted over the Star of David on a campus mural honoring the 11 Jews massacred during the deadly Pittsburgh synagogue shooting last month.
The large swastika defacing the mural on the East Campus Bridge was discovered on Sunday night, the university publication, The Chronicle, reported.
President Vincent Price announced a security camera would be installed at the East Campus bridge after a swastika was found yesterday:https://t.co/1I3om37xRz

— The (Duke) Chronicle (@DukeChronicle) 19 ноября 2018 г.
The mural itself was created by students last month in memory of the victims of the gun attack on the Tree of Life Synagogue in Pittsburgh, Pennsylvania. The shooting on October 27 claimed the lives of 11 people, and is considered to be the deadliest anti-Semitic crime in US history.
The mural includes the phrase "We must build this world from love," written in English and Hebrew. A Nazi symbol later appeared right on top of the gold Star of David, next to the names of the victims.
University President Vincent Price denounced the incident as "a craven and cowardly act of vandalism," while pledging to bring extra security to the Freeman Center for Jewish Life and other areas on campus. He said that a security camera will be installed at the bridge where the mural was defaced.
Rabbi Nossen Fellig, the co-director of Chabad Jewish Student Center at Duke University Undergrads, expressed hope for a "resolute and robust" response to the incident.
This is not the first incident involving Nazi symbolism to occur at Duke University. Just last month, a swastika was carved in a bathroom stall in one of the university's buildings.
Last week, a pumpkin with a swastika carved into it was found near one of the dormitories. Sheets of paper with the words "It's okay to be white" were also discovered that day.
According to the most-recent Anti-Defamation League report, the amount of anti-Semitic incidents in the US had surged nearly 60 percent in 2017. This year, a number of synagogues have been vandalized, including at locations in California, Indiana and New York City.
Think your friends would be interested? Share this story!
You can share this story on social media: