Liberals cry hypocrisy over reports of Ivanka's private email use – but it's not the same as Hillary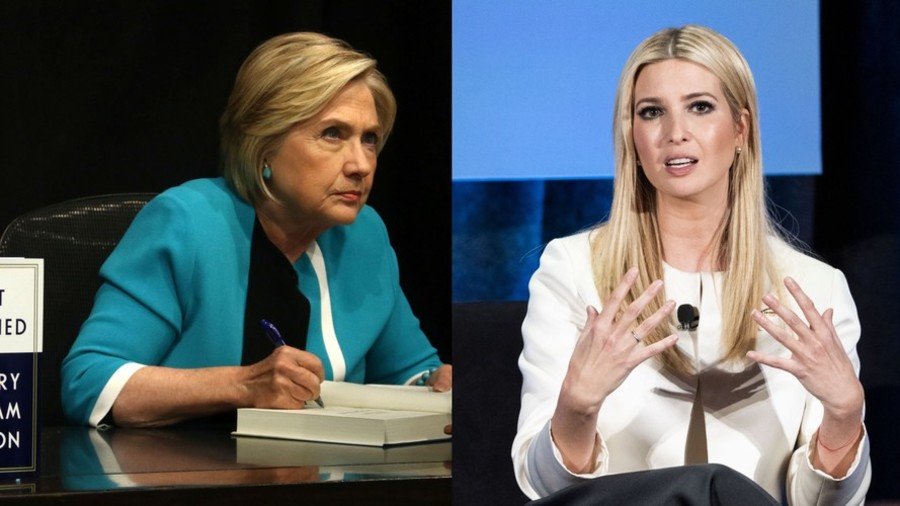 A bombshell report by the Washington Post on Ivanka Trump's use of a personal email account for official communications has prompted immediate comparisons to Hillary Clinton's scandal. But they aren't as similar as it may seem.
The report by the Washington Post alleges that US President Donald Trump's daughter and White House adviser Ivanka Trump briefly used her personal email account for communication with several administration agencies and officials. Trump's daughter reportedly sent about 1,000 emails containing her official schedule and travel arrangements to herself or her staff and some 100 emails in which she discussed government-related business with officials, including Education Secretary Betsy DeVos, the Labor Department (DOL), the Department of Treasury and the Department of Commerce staff, as well as the administrator of the Small Business Administration (SBA) Linda McMahon.
The blunder, which put Ivanka in violation of the White House records law, was first reported in September last year. The documents obtained by the American Oversight group through the Freedom of Information Act (FOIA) at the time showed that, before formally joining the White House in March last year, Ivanka used her personal email address to carry out official work. The WaPo reported on Monday that though the first daughter pledged to abide by all ethics rules and regulations since becoming an adviser to the president, she continued to occasionally use her personal email for official communication.
READ MORE: 'Lock her up!' US attorney general Jeff Sessions laughs as students chant anti-Clinton slogan
The use of private email server by former democratic presidential nominee Hillary Clinton became a frequent rallying point for Trump, who during the 2016 presidential campaign accused Clinton of grossly mishandling government communication. An FBI investigation found at the time that 36 emails of some 30,000 handed over by Clinton to the FBI contained "secret" information, while eight chains contained "top secret" information and another eight emails contained "confidential" information.
'Lock her up?'
Twitter has been awash with posts comparing Trump and Clinton, calls for Ivanka to resign and chants of "Lock her up!", as anti-Trump resistance was gloating over her supposed downfall.
Liberal commenters have accused Ivanka of hypocrisy, arguing that she could not possibly have been ignorant of the rules since the Clinton email saga was what her father capitalized on to sway the election in the first place.
Like Hillary, Ivanka at one point used a personal email account for official communication – but that's where the resemblance begins and ends.
'No classified info'
While Clinton shared "top secret" and "highly confidential" information through her private e-mail domain, potentially endangering national security, Ivanka's lawyer says this was not the case with the first daughter. Following the discovery of her use of private email in fall last year, the White House launched an internal review of the emails, which was carried out by Ivanka's attorney, Abbe Lowell.
Lowell combed through the troves of emails, transferring those containing official communication to Ivanka's government account to be archived in accordance with the law. In a statement carried by his spokesman Peter Mirijanian, Lowell said that that none of the messages he perused contained any classified information.
READ MORE: FBI thought Hillary broke the law, drafted acquittal despite ongoing investigation – report
'No bleaching'
Clinton permanently deleted some 30,000 emails she deemed personal using the tool BleachBit, which ensured they could not be recovered. The manner in which Clinton got rid of the emails caused many of her critics to doubt her assertion that they had been personal, since it's become impossible to verify.
Mirijanian said that, in contrast to Clinton, Ivanka has handed over all of her emails, without deleting any.
"Ms. Trump did not create a private server in her house or office, no classified information was ever included, the account was never transferred at Trump Organization, and no emails were ever deleted," he told WaPo.
Systematic vs occasional
While Clinton exclusively used her private server for all work-related communication, claiming that she "did it for convenience" and that "it was fully above board," Ivanka used her personal email occasionally and admitted that she was doing that in error.
When the fact came to light, Ivanka admitted the blunder, claiming she was not aware there were rules against it. Sources close to her, cited by the WaPo, said that the White House lawyers further discovered that she had not been kept up to date on the rules prohibiting the use of private email.
"While transitioning into government, after she was given an official account but until the White House provided her the same guidance they had given others who started before she did, Ms. Trump sometimes used her personal account, almost always for logistics and scheduling concerning her family," Mirijanian said.
Think your friends would be interested? Share this story!
You can share this story on social media: