'Little Schitt': Twitter explodes as Trump twists Democrat Schiff's name in fiery post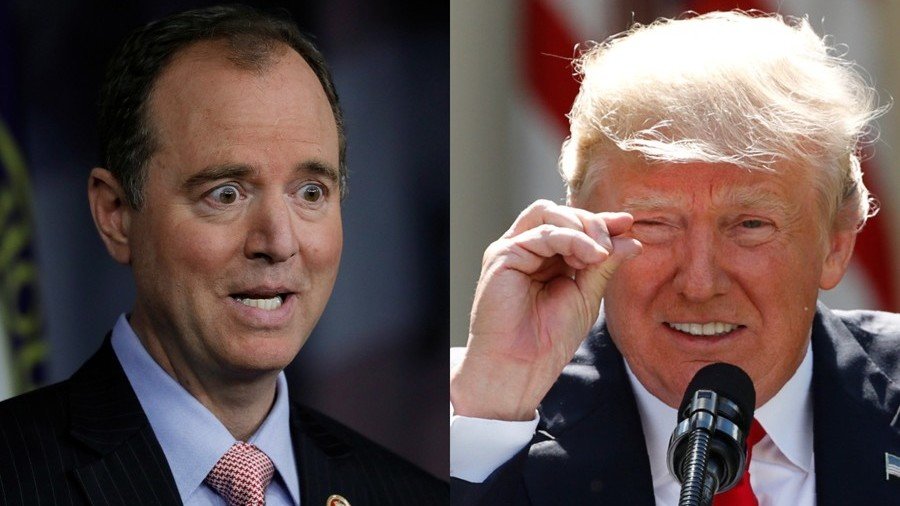 Congressman Adam Schiff has become the latest US politician to get a profane nickname from Donald Trump after the president labeled him "little Adam Schitt," sending Twitter into convulsions.
"So funny to see little Adam Schitt (D-CA) talking about the fact that Acting Attorney General Matt Whitaker was not approved by the Senate," Trump tweeted on Sunday, twisting the congressman's last name. Schiff is "not mentioning the fact that Bob Mueller (who is highly conflicted) was not approved by the Senate!"
Schiff fired back half an hour later, sharing the inflammatory post and writing on Twitter: "Wow, Mr. President, that's a good one. Was that like your answers to Mr. Mueller's questions, or did you write this one yourself?"
His response was soon followed a real Twitter storm, with more and more Trump haters joining an online brawl.
Trump had already taken aim at Schiff earlier this year. But in retrospect, that February tweet pales in comparison to the latest tirade.
Schiff, who is expected to take the lead of the House Intelligence Committee after Democrats won dominance in the chamber in the midterm elections, appeared Sunday morning on ABC.
READ MORE: Erdogan aide tells congressman Adam Schiff to 'shut up'
He called Trump's decision to appoint former US Attorney Matthew Whitaker to the Justice Department "unconstitutional" as he was not confirmed by the Senate – an accusation that other Democrats frequently use and the White House vehemently denies.
Whitaker, a former chief of Sessions' staff, has previously attacked Special Counsel Robert Mueller's investigation into alleged Russian meddling with the 2016 election. As the head of the Justice Department, Whitaker will oversee the notorious probe.
If you like this story, share it with a friend!
Subscribe to RT newsletter to get stories the mainstream media won't tell you.
You can share this story on social media: