1,000+ now listed missing as official death toll in California blaze rises to 71 (VIDEOS)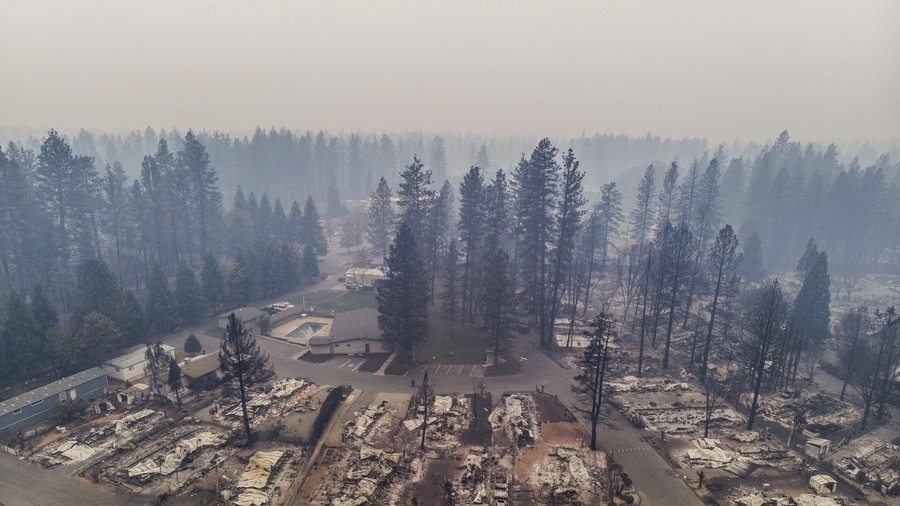 Casualties of the deadliest wildfire in California's history continue to mount, with eight more bodies found Friday bringing the official count to 71. Over 1,000 people have been reported missing, Butte County Sheriff said.
The shocking figure, up from some 630 listed missing the day before, may include some duplicate names, Sheriff Honea hopes. The Camp Fire has been raging for over a week across northern California, razing over 142,000 acres and laying waste the town of Paradise and its environs.
President Trump is expected to visit California on Saturday to survey the damage with Governor Jerry Brown. Trump has criticized the state's management of its forests and rivers, even as thousands of firefighters mobilized to try to control the blaze, which remains only around 45 percent contained.
READ MORE: California wildfire rips through nuclear waste site, fueling airborne toxin risk concerns
The Camp Fire broke out last Thursday morning in Pulga and quickly spread due to dry and windy weather conditions. California utility PG&E Corporation appeared to have shouldered some of the blame, admitting to regulators earlier this week they had been experiencing problems with their equipment near the origin of the fire. Multiple victims have filed lawsuits alleging negligence and improper maintenance.
Trump's visit could not come at a more chaotic time. Nearly 500 searchers, including a mobile rapid-analysis DNA lab and cadaver dogs, are combing through the ashes in search of the missing, armed with DNA from their relatives. Over 50,000 people remain evacuated from their homes, while thick smoke from the fire has reportedly earned northern California the distinction of the worst air quality in the world. Schools as far away as San Francisco and San Jose are closed because of the hazardous conditions, and authorities have advised residents not to go outside without a mask for several more days.
Think your friends would be interested? Share this story!
You can share this story on social media: