'We won't let them run us over!' Growing migrant crowd tests US-Mexico border fortifications (VIDEO)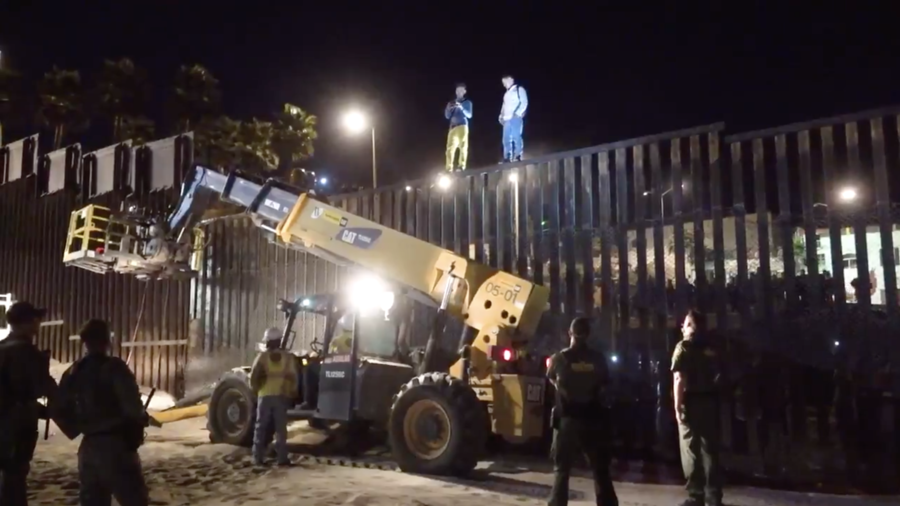 A metal fence separating US-Mexico border between Imperial Beach and Tijuana proved to be no challenge for hundreds of Central American migrants who scaled the wall with ease, taunting the American border agents on the other side.
Not all the migrants who broke away from the main caravan of asylum seekers found shelters once they arrived in Tijuana, Mexico. Many of those eagerly pursuing their dreams of a promised land continued west before they arrived at Border Field State Park in Imperial Beach, California.
The large fence which crosses the beach at US-Mexico Pacific border was not much of an obstacle, as dozens of people were seen scaling the wall. While some migrants did not go beyond perching on top of the fence, a few just couldn't wait to step on US soil.
However, no arrests were made as US border guards who patrolled the beach ordered the illegals back to Mexico.
US troops erect barricades & razor fence in San Diego as first migrants arrive in Tijuana (VIDEOS)
To make sure the beach border section stays secured, additional US border agents and the military were called in to begin to "harden" the barrier with razor-sharp wire.
"We readjusted our priorities and now are hardening this area quickly with concertina wire. The military has moved in as well as border patrol agents to make sure this is secure," San Diego Sector Chief Patrol Agent Rodney Scott said Wednesday, noting that over 300 migrants had reached the beach barrier a day earlier.
We're not just going to let groups of people just show up and run us over. We're ready and we will do our job to make sure that everybody is arrested and prosecuted.
A group of 398 asylum seekers arrived at Tijuana on Wednesday to join over 350 migrants that reached the shores of the Pacific on Tuesday. The two groups merged with some 80 LGBT activists and made it to the US-Mexico frontier on Sunday. In eager anticipation of their arrival, San Diego border agents and troops erected additional barricades and barbed wire fencing. US authorities also announced lane closures at the San Ysidro and Otay Mesa ports of entry.
Currently, several thousand Central American migrants are heading for the US in three separate caravans. Most of them intend to take the Pacific coast route to reach the US, which is still over 1,000 miles away from them.
To deal with the influx of refugees, Donald Trump has authorized the Pentagon to deploy 5,800 troops to Arizona, Texas and California to secure the southern border. The US troops, which have drones, helicopters and planes at their disposal will help 2,100 National Guardsmen battle what Trump called a migrant "invasion." While the deployment of such a massive military contingent drew extensive criticism, the Pentagon's chief on Wednesday defended the decision to send troops to secure the frontier.
"It's very clear that support to border police or border patrol is necessary right now," James Mattis said Wednesday, as he departed to visit the troops in Texas. "It's obviously a moral and ethical mission to support our border patrolmen."
Calling Operation Faithful Patriot "absolutely legal," Mattis expressed hope that US servicemen can fully secure the border within the next 10 days.
You can share this story on social media: