Never return to Neverland: Banner-waving Trump supporter banned from Disney World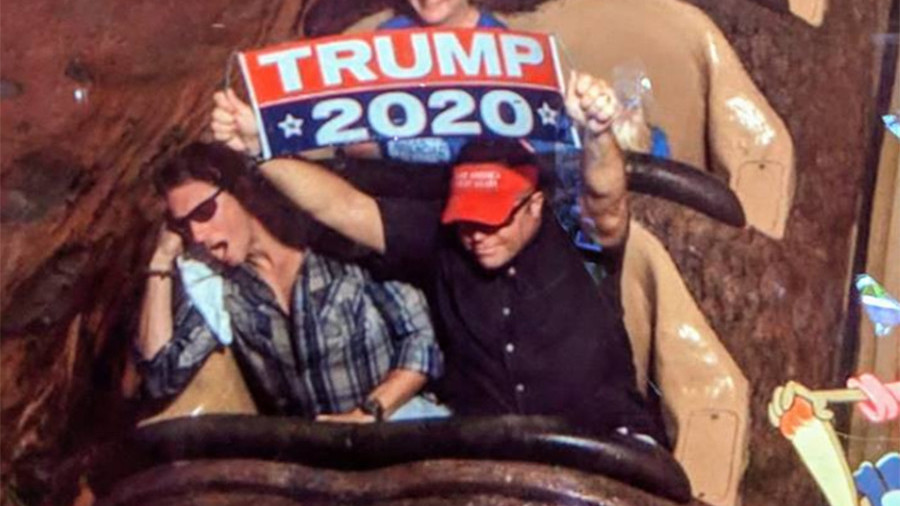 A Trump-supporting 'guerilla marketer' has been banned for life from Disney World for holding up a 'Trump 2020' banner on the Splash Mountain log ride, weeks after he was booted out of the park for a similar stunt.
Dion Cini, a die-hard Trump supporter, had his lifetime pass to Disney World revoked in September for hanging a massive banner reading "Re-Elect Trump. Keep America Great," over a balcony in the park's Magic Kingdom area.
After a discussion with park officials, Cini got his pass back, on the condition that he would leave his flags at home. Park rules forbid political statements, including "the usage of any flag, banner or sign to incite a crowd."
The 49-year-old New Yorker broke his promise last week, holding a pro-Trump banner high as he went over the park's Splash Mountain log ride, and displaying another one on a rollercoaster.
"Banned for life from Walt Disney World for the 2nd time in a month," Cini wrote on Facebook. "They hate my signs, or the President? Maybe both?"
Park officials maintain that Cini simply broke their rules. As a result he's now banned from all Walt Disney World properties, including theme parks, water parks, resorts and Disney Springs.
If Cini's stunt looks familiar, that's because it is. Earlier in September, Cini interrupted a Broadway performance of 'Frozen' by standing in front of the stage with a pro-Trump banner; and in July the prankster hung the same banner from the balcony at New York's Yankee Stadium.
Cini's fans praised his latest stunt in comments on his Facebook post. Some people were less amused however.
"You should have been banned at birth," read one. "Mainly for being an idiot."
"People go and spend thousands of dollars for a once in a life vacation at Disney," read another. "And you decide to hold up a banner (which is against Disney policy) and ruin the picture for the two families in the back who have spent a 150 on a photo pass. An entitled season passholder being an ass and ruining other people's vacations."
Cini remains defiant. He told the Washington Post that he plans on fighting the ban in court, and will unveil a bigger, 50-foot wide flag somewhere in the US next week.
Like this story? Share it with a friend!