US will squeeze Iran with sanctions 'until the pips squeak' – Bolton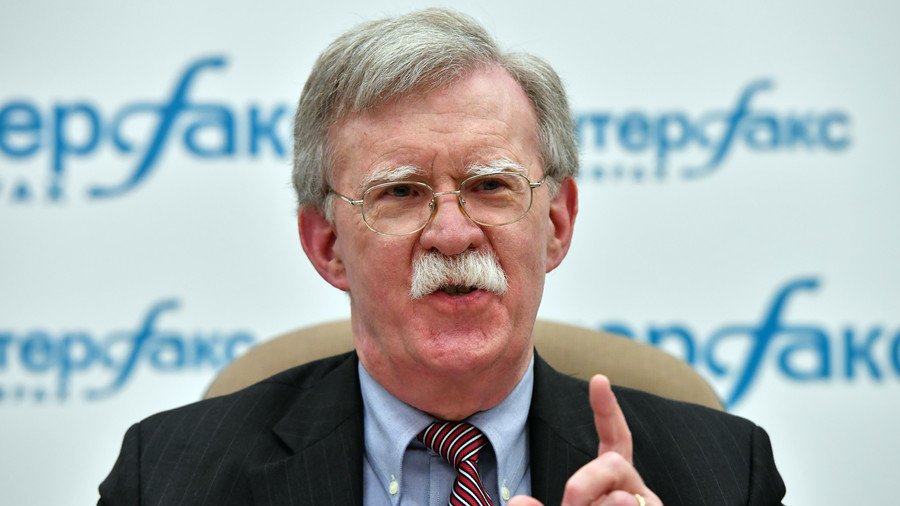 US National Security Advisor John Bolton has threatened to "squeeze" Iran's economy "until the pips squeak," just one week after Washington imposed a new round of crippling sanctions billed as the "toughest ever."
Speaking ahead of the ASEAN-US summit in Singapore, Bolton said that the Iranian government is already under "real pressure" and that the US would "significantly increase" the enforcement of sanctions.
It is our intention to squeeze them very hard. As the British say: 'Squeeze them until the pips squeak'.
Bolton said there was "no doubt" that Iran has already begun looking for ways to evade sanctions, which hit the country's oil, financial, shipping, nuclear and aviation industries. He added that Tehran would be looking for ways around sanctions on the oil and financial markets in particular, noting that the US's objective has been to "get oil exports from Iran down to zero."
READ MORE: Iran leaders will have to fall in line if 'they want their people to eat,' Pompeo says
In May, US President Donald Trump decided to withdraw the US from the 2015 multinational nuclear deal with Iran, despite objections from its European signatories who remain committed to the agreement.
Since then, all of the sanctions which were lifted under the terms of the deal have been reimposed. The harsh measures are expected to push the Iranian economy into recession this year, according to an outlook report from the International Monetary Fund this week.
In this interview published on the US State Dept's website, Sec. of State Pompeo makes it clear what the murderous impact of sanctions on Iran are:"the leadership has to make a decision that they want their people to eat."This is collective punishment.https://t.co/I8zsPY2rSMpic.twitter.com/Ritlx90VlE

— Ben Norton (@BenjaminNorton) November 8, 2018
European countries have been trying to find ways around Trump's sanctions in an effort to continue trading with Iran, but Trump has warned of penalties if they do not abide by the sanctions.
Acknowledging widespread distaste for Washington's Iran policy, Bolton compared Europe's attitude to the grieving process, but was confident it would fall in line.
"I like to compare the attitudes that are changing in Europe to a book written years ago in the US called 'The Six Stages of Grief'," he said. "It starts off with denial. Then it ends up at acceptance."
US officials have stepped up aggressive rhetoric toward Iran in recent weeks, with Secretary of State Mike Pompeo leading the way, warning Iran to toe the line and "act like a normal country, or see its economy crumble" and suggesting that obeying Washington was the only course of action for Iran's leaders if they "want their people to eat."
It's not the first time a US official has made flippant comments about starvation in countries where it has imposed sanctions. In January, Pompeo's predecessor Rex Tillerson cited boats of dead North Korean fishermen as a sign that US sanctions were working.
The Trump administration claims that the latest sanctions are aimed at pushing Tehran to curb its "destabilizing influence" and scale back its involvement in some regional conflicts — and while that may be partly the goal, Iranian officials and many regional analysts believe the true aim is to push Iranian citizens to revolt against the country's leaders, which would help facilitate US-backed regime change.
Subscribe to RT newsletter to get stories the mainstream media won't tell you.
You can share this story on social media: