CNN sues Trump over White House ban on Jim Acosta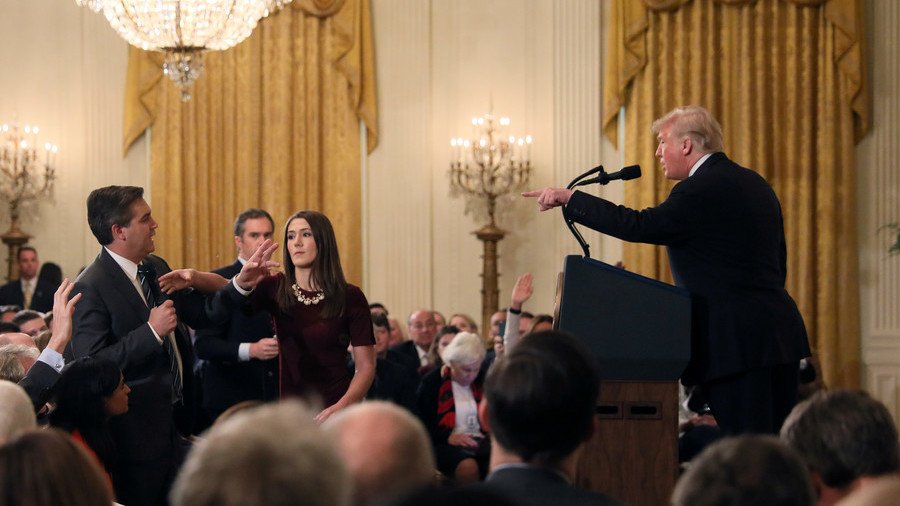 CNN has filed a lawsuit against the Trump administration over the revocation of press credentials from its reporter Jim Acosta. The suit alleges the ban violated both First and Fifth Amendment rights of the network and reporter.
The lawsuit was announced by CNN on Tuesday. The network is also asking the court for an "immediate restraining order requiring the pass be returned to Jim."
Both CNN and Acosta are plaintiffs in the lawsuit, and there are six defendants: Donald Trump himself, White House Press Secretary Sarah Sanders, Chief of Staff John Kelly, his aide for communication Bill Shine, Secret Service Director Joseph Clancy, and the unidentified Secret Service officer who took the pass from Acosta.
The Acosta affair unfolded last Wednesday, when the reporter was barred from entering the White House and had his pass revoked. Sanders said that the reporter had behaved inappropriately at a presidential news conference. The White House accused Acosta of putting his hands on a female intern, who was trying to take the microphone away from him in the middle of a heated exchange with Trump.
The accusations from the White House were backed up by a video of the incident – which only further fueled the controversy. Trump critics pointed out that the administration had shared a "doctored" and muted version of the video, used earlier by the Infowars conspiracy show. Acosta critics said the footage was merely zoomed in to show the occurrence in detail.
While Acosta's critics have accused him of making the whole affair "all about himself," CNN insists that the lawsuit is actually for the better good of journalism as a whole.
"While the suit is specific to CNN and Acosta, this could have happened to anyone," the network said. "If left unchallenged, the actions of the White House would create a dangerous chilling effect for any journalist who covers our elected officials."
Like this story? Share it with a friend!
You can share this story on social media: