California carnage: 42 dead in wildfires, 200 missing, 250k evacuated (PHOTOS, VIDEOS)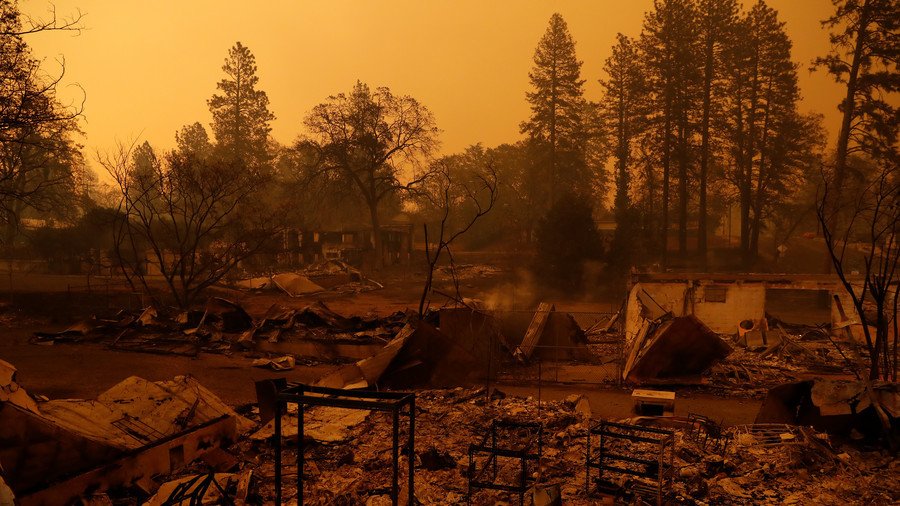 The death toll in California has risen to 42 and 228 people are still missing as three major wildfires continue to sweep across the state. An estimated 250,000 people have been displaced from their homes.
Thirteen more people were confirmed dead from the "Camp Fire" in Paradise, northern California, taking the toll in that area to 42 and making it the deadliest fire in California history.
Paradise, some 90 miles (145 km) north of Sacramento, has been completely destroyed by the blaze, with the authorities saying that up to 90 percent of the residents lost their homes. The death toll is expected to rise.
READ MORE: California wildfires force hundreds of thousands to evacuate, claim five lives
An estimated quarter million Californians have been forced to flee their homes to escape the three blazing infernos across the state. Strengthening winds mean the flames are expected to spread even further by Tuesday. So far, the fires have spread to some 400 square miles (1,040 square km) as some 8,000 firefighters are still unable to contain the inferno.
California governor Jerry Brown is urging President Donald Trump to declare the situation as a major disaster in order to secure emergency funding.
The appeal came a day after the president threatened to cut funding for California, blaming the fires on poor forest management. President of the International Association of Fire Fighters, Harold Schaitberger, deemed the comments "reckless and insulting."
READ MORE: Celebrities flee as the South California wildfire closes in on star-studded neighborhoods (PHOTOS)
In southern California, the Woolsey Fire claimed two lives as it tore through beach resorts and coastal homes in Malibu, west of Los Angeles. An estimated 370 structures have been destroyed, while another 57,000 are believed to be under threat.
With Malibu being home to many of the rich and famous, it's unsurprising that several celebrities have been affected by the Woolsey blaze. Neil Young, Robin Thicke, Gerard Butler and Miley Cyrus are among those who lost their homes along the coastline.
Reality star Kim Kardashian, actress Alyssa Milano, Orlando Bloom, Lady Gaga and director Guillermo del Toro were also among the celebrities forced to pack up and flee their upscale homes in Calabasas and Malibu, with flames licking at their heels.
Think your friends would be interested? Share this story!
You can share this story on social media: