Celebrities flee as the South California wildfire closes in on star-studded neighborhoods (PHOTOS)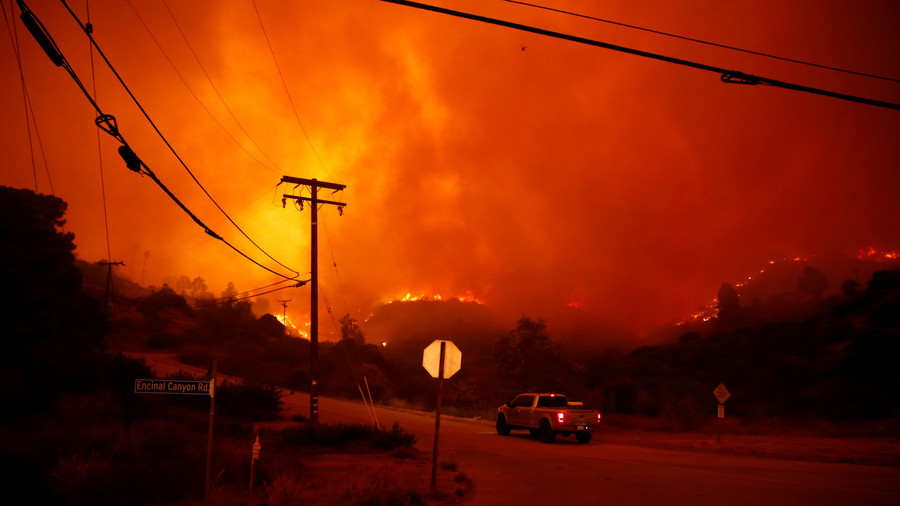 Reality star Kim Kardashian, actress Alyssa Milano, and director Guillermo del Toro were among the many celebrities forced to pack up and flee their upscale homes in Calabasas and Malibu with flames licking their heels.
The entire city of Malibu, a well-known celebrity hotspot, has been put under a mandatory evacuation order, as multiple homes are reported to have been scorched in Westlake Village and Oak Park with the Woolsey fire now estimated to have spread to 35,000 acres.
Some 250,000 residents in Los Angeles and Ventura counties have been evacuated with firefighters still unable to contain the blaze. Some 150 homes have already been destroyed. Among the houses reported to have been devoured by the flames is Caitlyn Jenner's mansion in Malibu hills. The former Olympian turned transgender rights activist herself was not hurt in the fire.
Her stepdaughter, Kim Kardashian West, the resident of an upscale neighborhood in Calabasas, where she lives with her husband, Kanye West, rushed to her home in Hidden Hills to gather her belongings and evacuate. She later posted a photo from onboard her private jet that showed raging fires lurking beneath.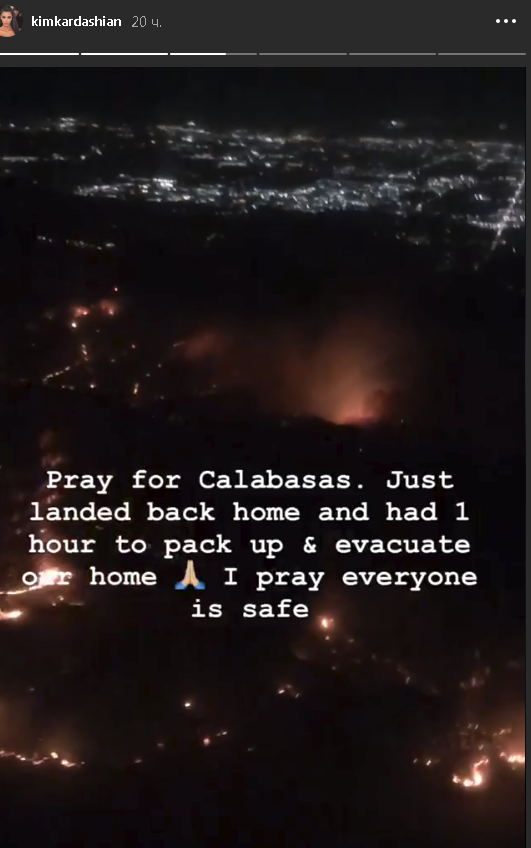 Alyssa Milano, a Hollywood actress lately known for her #MeToo activism, was also forced to evacuate, apparently in a rush. Milano said that she grabbed her kids, dogs and Dr. Martens boots while leaving several concerned tweets about the fate of her five horses.
"Horses are finally safe. My children are safe. My home is in jeopardy but... everything with a heartbeat is safe. Thank you all for your concern," she tweeted on Friday.
I just had to evacuate my home from the fires. I took my kids, dogs, computer and my Doc Marten boots. (Husband is in NY. Horses are being evacuated by my trainer.)

— Alyssa Milano (@Alyssa_Milano) November 9, 2018
Lady Gaga fled her home early in the morning. An Instagram photo she made shows plumes of thick smoke heading towards her estate.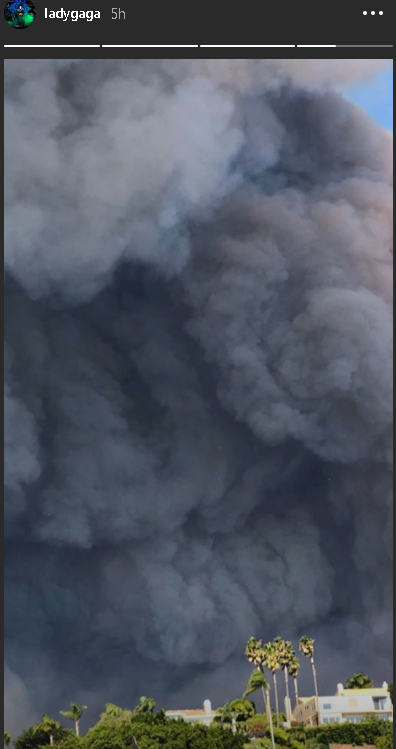 Actor and producer James Woods, a pariah among his Hollywood peers because of his strong support for Donald Trump, has been actively helping coordinate search and rescue efforts via his Twitter – even reaching across party lines to offer Alyssa Milano help in taking her horses out of harm's way.
Renowned movie director Guillermo del Toro, like many of his famous neighbors, hastily abandoned his home in Agoura Hills. Calling on the locals to evacuate, del Toro lamented the potential loss of his Bleak House collection.
Actor Orlando Bloom took to Instagram to post a harrowing photo of the blaze approaching his home.
Many celebrities expressed concerns about their homes as the fire crept within several miles. Cher tweeted that her friends' houses had been burned, adding that she could not "bear the thought of there being no Malibu."
Rapper Iggy Azalea struck a similarly frantic tone, tweeting that she "was genuinely concerned" by the flames encroaching on her Calabasas home.
Scores of other celebrities, including Will Smith, Kardashian West's sisters Kourtney and Khloe, actors Rainn Wilson and Rob Lowe posted updates on the fires sweeping through the state.
The fast-moving fire, whipped up by strong winds known as Santa Ana, has jumped Highway 101, including in Calabasas and Agora Hills, and headed towards Malibu, Malibu Search and Rescue reported on Friday.
So far, nine people have fallen victim to the fire. Butte County Sheriff's office told AP that four of them were found burned to death in their cars, three people were found outside homes and another person was discovered unresponsive near a vehicle. One person died inside his own home.
Like this story? Share it with a friend!
You can share this story on social media: