Trump signs order denying asylum to illegal migrants, as caravan approaches US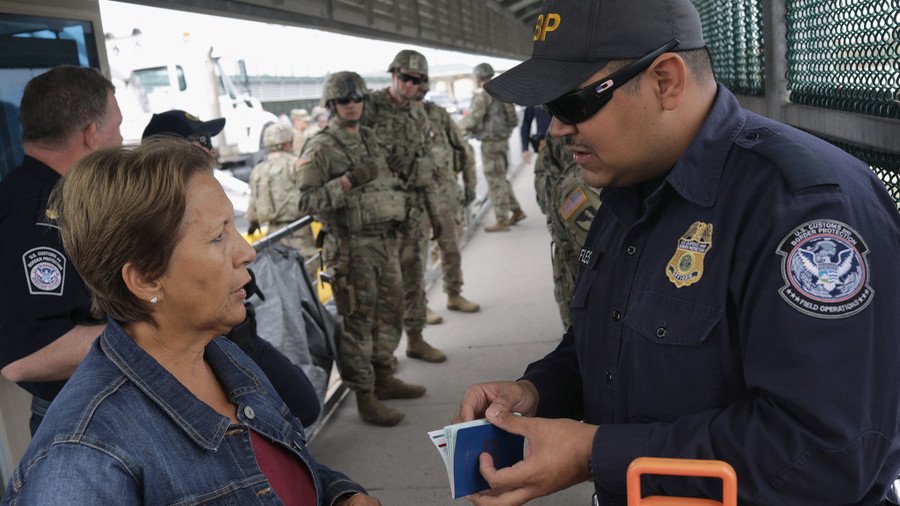 President Trump has signed an immigration order requiring asylum seekers to make their claim at their point of entry to the US, and barring illegal immigrants from requesting asylum.
"We need people in our country but they have to come in legally and they have to have merit," Trump told reporters on Friday, before departing for Paris.
The order comes after weeks of Trump promising to crack down on illegal immigration, as a caravan of several thousand migrants makes its way toward the southern US border from Central America. The caravan is currently around 600 miles from the United States.
Our military is being mobilized at the Southern Border. Many more troops coming. We will NOT let these Caravans, which are also made up of some very bad thugs and gang members, into the U.S. Our Border is sacred, must come in legally. TURN AROUND!

— Donald J. Trump (@realDonaldTrump) October 31, 2018
The directive is a temporary measure, and circumvents current laws that state anyone who applies for asylum in the US is eligible to have their case heard, no matter whether they arrived legally or illegally.
Within hours of Trump's announcement, the American Civil Liberties Union (ACLU) filed a lawsuit in a federal court in California, seeking to block the rules from going into effect. ACLU attorney Lee Gelernt said the new rules would put families in danger, according to AP.
Those denied asylum under the new order will still be able to apply for 'withholding of removal' - a limited form of asylum that doesn't allow for green cards or family members to join the applicant; or asylum under the United Nations Convention Against Torture. In both cases, the applicant has to demonstrate a credible threat if they were to return home.
It forms one part of the president's latest efforts to tighten border security and clamp down on immigration. Before the midterm elections, Trump mulled ending birthright citizenship - the policy that ensures all children born on US soil are automatically citizens - by executive order.
"We're the only country in the world where a person comes in and has a baby, and the baby is essentially a citizen of the United States for 85 years with all of those benefits," Trump told Axios. "It's ridiculous. It's ridiculous. And it has to end."
Any executive order ending birthright citizenship would likely provoke a Constitutional debate and be challenged in the Supreme Court, as birthright citizenship is currently guaranteed under the 14th Amendment of the US Constitution, according to judicial precedent.
In addition to policy changes, Trump has also beefed up the physical security of the 2,000-mile-long US border with Mexico.
Over 5,200 US troops have been sent to the border to erect razor-wire fences and provide surveillance and logistical support to the National Guardsmen and Customs and Border Patrol agents already there.
The president said last week that "anywhere between 10,000 and 15,000 military personnel" may be deployed to the border, if the current contingent is not enough.
Trump also underscored that anyone who does cross the US border illegally will be detained in "tent cities" and other immigration detention facilities, as "we're not doing releases" anymore. Trump has been a long time critic of the Obama administration's 'catch and release' policy, under which apprehended immigrants would be released and asked to return for a court hearing at a later date. Unsurprisingly, many do not.
Subscribe to RT newsletter to get stories the mainstream media won't tell you.
You can share this story on social media: