Antifa protest at Tucker Carlson's home investigated as possible hate crime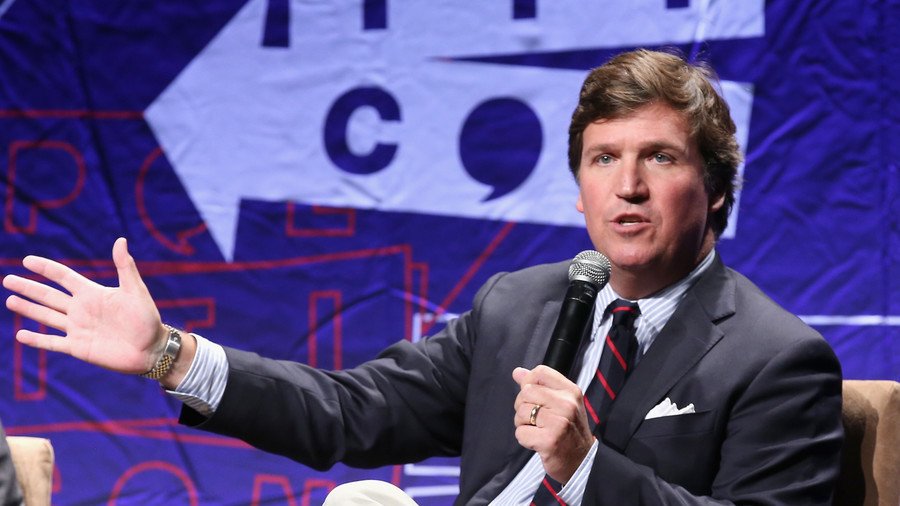 The protesters that descended on Fox News' Tucker Carlson's home in Washington, DC, Wednesday night might face hate crime charges, police said. The activists defaced the host's home as his wife cowered inside.
Washington's Metropolitan Police Department said it is treating the incident outside the home of the conservative news channel star as a "suspected hate crime," as they believe Carlson was targeted because of his political beliefs.
Police were called to Carlson's home after a group of some 20 protesters surrounded his house, chanting loudly. Many of the self-described anti-racist protesters were carrying signs, some of which they later left on the cars parked in the driveway and porch. Police reported that protesters also vandalized Carlson's property, spray-painting an "anarchy symbol on the driveway."
The police report of the incident outside Tucker Carlson's home (shared by Benny Johnson on Twitter) makes no mention of any cracks on Carlson's door, just an "anarchy symbol" that was spray painted in his driveway. pic.twitter.com/E7xk61DZNQ

— Alex Rubinstein (@RealAlexRubi) November 8, 2018
Police were called by Carlson's wife, Susie, who, apparently fearing that the chanting mob might break in, hid in the pantry. When Police arrived at the scene, they made no arrests, but seized several signs.
Speaking with Fox News in the wake of the incident, Carlson said that he was in the channel's studio preparing for a show when the ruckus unfolded outside his home. He claimed that the angry protesters made cracks in his door and threatened him with a pipe bomb, citing security footage.
The Smash Racism DC group, that posted videos from the protest on Twitter, also posted Carlson and his brother's home addresses, the host said. The videos were removed from the platform, but not before being extensively viewed and shared. Twitter eventually flagged the group's account, which remains suspended as of Thursday.
In a statement circulated on Twitter, Smash Racism defended its conduct, stating that "Being a target of a direct action is uncomfortable and Tucker should sit with that."
The protest has been denounced by Fox News CEO Suzanne Scott and the network's president, Jay Wallace, who called it "reprehensible" and "unacceptable."
The protesters were chanting "Tucker Carlson, we will fight! We know where you sleep at night!" and "Racist scumbag leave town" as they descended on the house late on Wednesday.
An outpouring of support for Carlson has been coming not only from conservative commentators, but also from some on the liberal left. Rival CBS talk show host Stephen Colbert became one of the prominent TV personalities to condemn the action.
Fighting Tucker Carlson's ideas is an American right. Targeting his home and terrorizing his family is an act of monstrous cowardice. Obviously don't do this, but also, take no pleasure in it happening. Feeding monsters just makes more monsters.

— Stephen Colbert (@StephenAtHome) November 8, 2018
Most big networks, however, were too busy covering CNN reporter Jim Acosta's White House ban to notice the siege of Carlson's home.
READ MORE: Fake news feud: A brief history of Trump and CNN's Jim Acosta yelling at each other
Carlson has become yet another victim of left-wing protesters harassing those affiliated or sympathizing with the Trump administration. The Fox anchor is known for his ardent support of Trump's policies. Texas Senator Ted Cruz, White House spokeswoman Sarah Huckabee Sanders and Homeland Security Secretary Kirstjen Nielsen have all been confronted in public places by protesters or denied service by private businesses for their support of Trump. Several Democratic lawmakers have come under fire for what many see as inciting violence against their political opponents. Rep. Maxine Waters (D-Calif.) has called on her supporters to face off against Trump administration officials in public, while Obama Attorney General Eric Holder infamously suggested "kicking 'em." Former Democratic Presidential Candidate Hillary Clinton has also taken heat for cheering over the end of civility in politics. Democrats have denied that they are fanning violence, arguing the strong-worded remarks are just a mirrored response to Republican rhetoric.
Like this story? Share it with a friend!
You can share this story on social media: