DeSantis wins Florida governor's race; Gillum concedes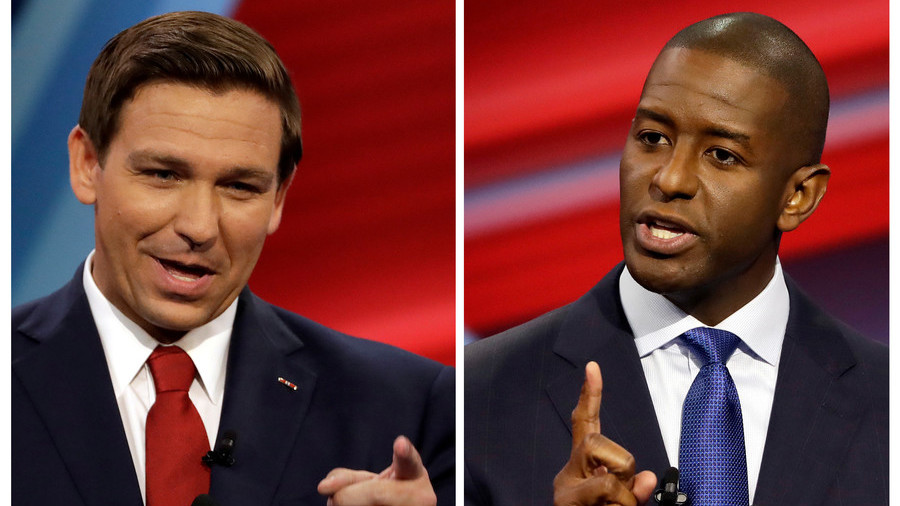 In one of the closest (and most closely-watched) races of the 2018 election, Republican representative Ron DeSantis has edged out Andrew Gillum to become Governor of Florida. He won with 49.9 percent of the vote.
Andrew Gillum was poised to become the first black governor in Florida's history. The Tallahassee mayor won his primary on a progressive platform but has drifted toward the center in the runup to the general election, posing with establishment figures like Cory Booker (D-NJ) and former President Barack Obama.
Ron DeSantis, a three-term Republican congressman, survived the shooting attack on a congressional baseball game last year that wounded his fellow Congressman Steve Scalise. He has benefited from the support of President Trump, who has held multiple rallies to back his campaign, and current governor Rick Scott.
The day before the election, MSNBC aired a graphic that showed Gillum narrowly beating DeSantis, with 49.4 percent to his 48.8 percent. Unfortunately, Florida residents hadn't actually voted yet, leading viewers to speculate about what exactly was going on at the network. Host Chris Hayes called the prognostication a "misfire" and claimed their system had "inadvertently populated some test numbers." Numbers that happened to closely resemble the expected results, of course.
The gubernatorial contest has been heated, with both parties trading insults over issues that have been raised on the campaign trail. Gillum's administration is under investigation for corruption by the FBI, while DeSantis has been accused of racism, including racist robocalls urging supporters not to vote for Gillum.
You can share this story on social media: