All over US, polling places freeze when faced with the unexpected: voters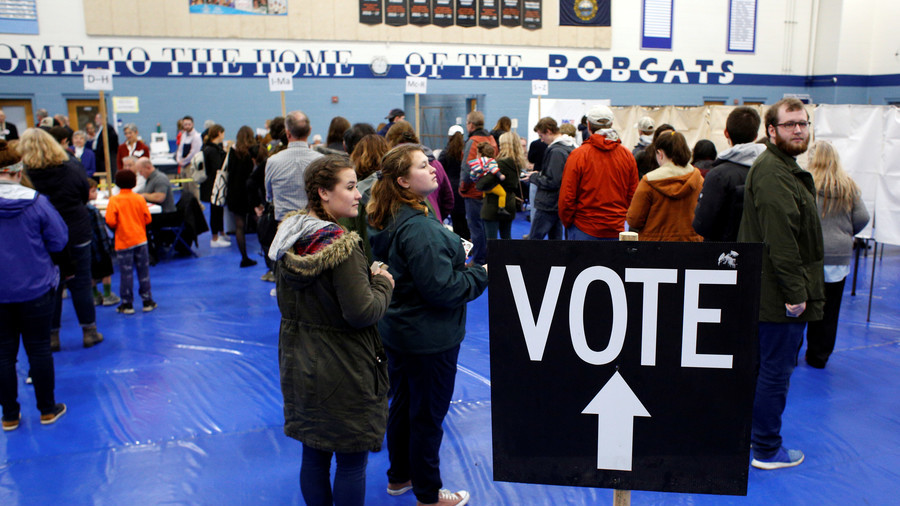 American midterm elections are normally sleepy affairs, but 2018's hyper-partisan atmosphere has voters turning out in record numbers. Polling places were unprepared for the onslaught and machines broke down all over the country.
In New York City, broken and jammed machines thwarted thousands of voters from Brooklyn to the Upper East Side and the Bronx, leaving voters lined up waiting in the rain – where they made matters worse by getting the ballots wet, according to Board of Elections rep Michael Ryan. Poll watchers were shocked at the dysfunction and NYC Council Speaker Corey Johnson demanded Ryan's resignation, calling the mess "unacceptable and unfair to voters."
Every election is like Groundhog Day: long lines, polling site issues, huge problems. Now we're blaming the weather? It's unacceptable & unfair to voters. Michael Ryan should resign & we should begin a top to bottom review of how this happened. It's time for new leadership at BOE https://t.co/nxl5swtCeb

— Corey Johnson (@CoreyinNYC) November 6, 2018
This is not the first election New York has flubbed. Thousands of names went missing from voter rolls during the 2016 primaries, a phenomenon which was repeated to a lesser extent during this year's primaries.
North Carolina voters had their own issues, with machines failing to read the new, larger ballots. Wake County Board of Elections Director Gary Sims blamed the humidity and instructed frustrated voters to place their ballots in "emergency bins," where they would be counted later.
The lines were just as long in Georgia, where voters in downtown Atlanta had to wait for hours to cast their ballots after the county delivered just three voting machines. Civil rights leader Jesse Jackson actually visited the precinct in an effort to keep people's spirits up and encourage them not to leave.
Some voters in New Jersey showed up at the polls only to be turned away because of a new law regarding mail-in ballots. Residents who had previously voted by mail were told they had to opt out before they could return to voting in person.
In South Carolina, voters claimed machines were flipping their votes to parties they did not want to select, sometimes more than once. Richland County Elections Director Rokey Suleman blamed a "calibration issue." Other officials said the vote-flipping was only the start of their problems – some machines wouldn't even plug in.
Texas voters had a similar experience last week. Voting machines reverted to Republican Ted Cruz when people attempted to vote for Democrat Beto O'Rourke, or to no candidate at all when they tried to vote for Cruz. Around the same time, the Georgia NAACP claimed they were experiencing similar issues with their gubernatorial candidates.
Georgia Republican gubernatorial candidate Brian Kemp's voter card was returned as "invalid" when he attempted to vote in his hometown of Winterville, forcing him to exchange it for another. Two days before the election, Kemp accused the Democratic Party of hacking into Georgia's voter database and used his current position as Georgia Secretary of State to post the allegation to the official website many Georgia residents use to find voting information.
If you like this story, share it with a friend!
You can share this story on social media: