Who needs experience? Russophobic ex-Fox News host Nauert tapped as next UN Ambassador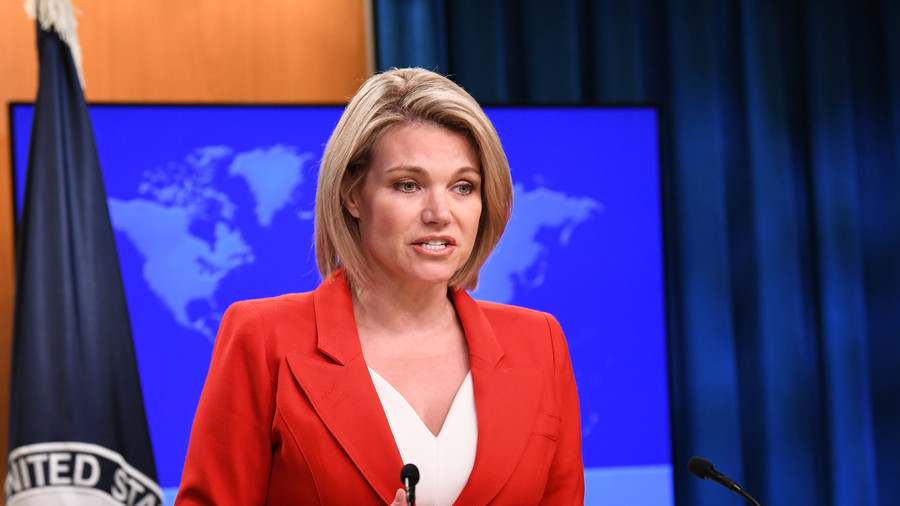 The Trump administration has found the perfect blank slate to push its uniquely belligerent foreign policy at the UN: Heather Nauert, a former Fox News host who had zero political experience until joining the Trump team last year.
Trump has confirmed that State Department Spokesperson Nauert "is under very serious consideration" to become the next US Ambassador to the UN, taking over from Nikki Haley, who announced last month that she would leave at the end of the year amid fierce speculation that she was planning a presidential run in 2020.
While lacking foreign policy experience, she's good at dodging questions, finding justifications for inconsistent US policy, and making odd statements that would make her Obama-era predecessor Jen Psaki blush. Here are just a few examples from her briefings over the past year:
1. "Russia has long arms, Russia has lots of tentacles." (in an effort to convince reporters Russia was responsible for the Skripal poisoning, despite the absence of proof)
2. "There's no one better, in the world, about lying about US role in the world than Russia."
3. "Tomorrow is the anniversary of the D-Day invasion. We obviously have a very long history with the government of Germany." (citing the Allied landings in Normandy during World War 2 as an example of US bonds with Germany)
4."Our relationship with these countries can ebb and flow sometimes. You have – like a marriage. You have a good day and sometimes you have a bad day, right?" (after Erdogan claimed the US's arrest of a Turkish trader was "a plot against Turkey")
5. "I don't know if you all are working for RT today or what." (after AP reporters questioned the government's decision to search Russian diplomatic properties)
Before entering the Trump White House in April 2017, Nauert was a presenter on Fox & Friends, one of the president's favorite news programs. She caught his eye by tweeting that she would buy two pairs of Ivanka Trump brand shoes after Nordstrom's stopped selling the line. After watching her put her foot in her mouth for the past year, it's clear why she needed that second pair of shoes.
But lack of experience is not a barrier to achievement in the Trump White House, as it didn't stop Haley, who admitted after tendering her resignation that she didn't know what the UN actually did before accepting the ambassador position.
If you like this story, share it with a friend!
You can share this story on social media: