Netflix's 'Sabrina' facing real-life Satanists' wrath for ripping off iconic goat-headed statue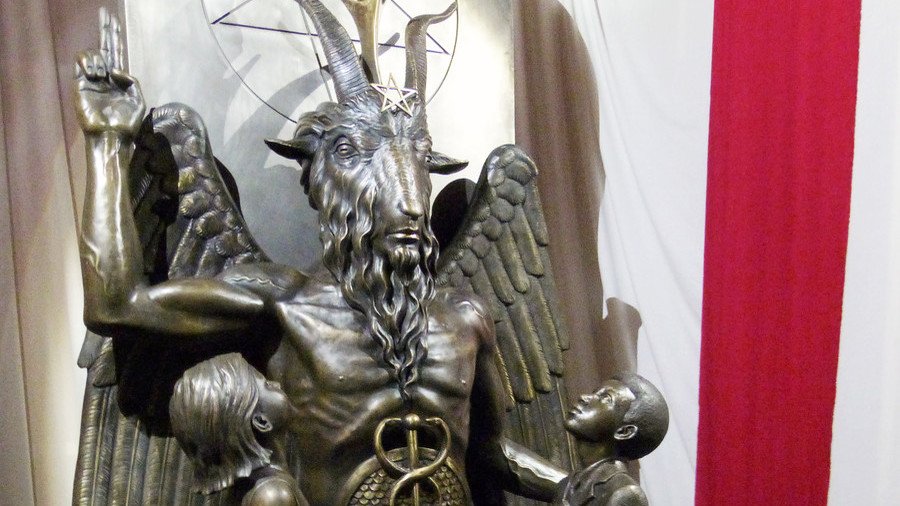 The Satanic Temple is set to sue Netflix over the portrayal of devil-worshippers in the witchy series 'The Chilling Adventures of Sabrina.' The show features an 'unholy' statue which real Satanists claim is subject to copyright.
'The Chilling Adventures of Sabrina' is a darker, closer-to-the-bone reboot of the late 1990s sitcom 'Sabrina the Teenage Witch.' Far from the goofy magicians of the earlier series, the witches in the new show are full-on devil worshippers, who perform blood rites and eat human flesh – and praise Satan at every opportunity.
It's that devil worship that has got the actual, real-world Satanic Temple riled up. In particular, they have objected to the use of the iconic Baphomet statue by the fictional witches.
Satanic Temple co-founder Lucien Greaves has little patience for 'Sabrina's Church of Night,' calling the show "asinine Satanic panic fiction." While it does, at times, proclaim the same values as real Satanists – free will above all – the rest of the portrayal is decidedly stereotypical, with all the dark grimoires, black cats and grim rituals in darkened woods.
Worst of all, however, Netflix showrunners decided to use the statue of Baphomet, iconic to the Satanic Temple, as a centerpiece in the fictional Academy of the Unseen Arts. Not only is it easily identifiable and associated with the Satanic Temple, it is also copyrighted, Greaves says.
It would be like depicting a famous real-life mosque as a base of terrorist operations, Greaves argues.
I'm amazed that anybody is confused as to why we would seek legal remedy over Sabrina using our monument. Would they be as understanding of a fictional show that used a real mosque as the HQ of a terrorist cell? A fictional Blood Libel tale implicating real world Jews?

— Lucien Greaves (@LucienGreaves) October 29, 2018
The nine-foot-tall Baphomet statue was unveiled in Detroit in 2015. It's based on a 19th-century depiction of a deity that encompasses the "sum total of the universe," featuring both male and female features, as well as symbolism for good and evil, day and night, unification and separation, and so on.
The statue used in 'Sabrina' is not actually a 100-percent copy, but comes close enough that the differences are negligible.
Now, Greaves and his followers want Netflix to not only remove the Baphomet statues from 'Sabrina' ads and the show itself, but also to come up with an explanation as to how it ended up in the series. Otherwise, it's the worldly court.
The issue of real v fictional Satanism has divided opinions. While some support Greaves' argument…
Imagine the *outcry* if Sabrina featured a baptismal font held on the backs of 12 marble oxen--the kind you find in Mormon temples--and had a character get baptized in blood in said font. And as far as I know, the font isn't even an expressly copyrighted design. https://t.co/RSj5OtaBoM

— Charles Louis Richter (@richterscale) October 29, 2018
YEAH! I support this decision, because giant corporations that make stupid decisions which affect thousands of people, assuming they won't face consequences, can certainly afford to face those consequences. Perhaps this will end in several possible win-win scenarios? I hope so.

— Venita Estella (@VenitaEstellaH) October 29, 2018
Others argue that the Baphomet isn't the Satanic Temple's property.
Give it a rest. You didn't invent the Baphomet. Their sculpture is very different from yours. You didnt invent the pose, symbolism, etc. You can find it everywhere. Sit down. Get back to what you're good at!

— Jeff Cullen (@Hellfurian) October 30, 2018
Nothing more asinine than legal action over a statue you made of a centuries old image. You're just giving the show free publicity.

— Devon Gillespie, Video Game Gremlin (@devronius) October 30, 2018
And 'Sabrina' writer Axelle Carolyn has flung the Satanists' own tenets back at them.
'The freedoms of others should be respected, including the freedom to offend.'

— Axelle Carolyn (@AxelleCarolyn) October 29, 2018
Like this story? Share it with a friend!
You can share this story on social media: