Trump calls Democratic Party megadonor 'lunatic', Resistance erupts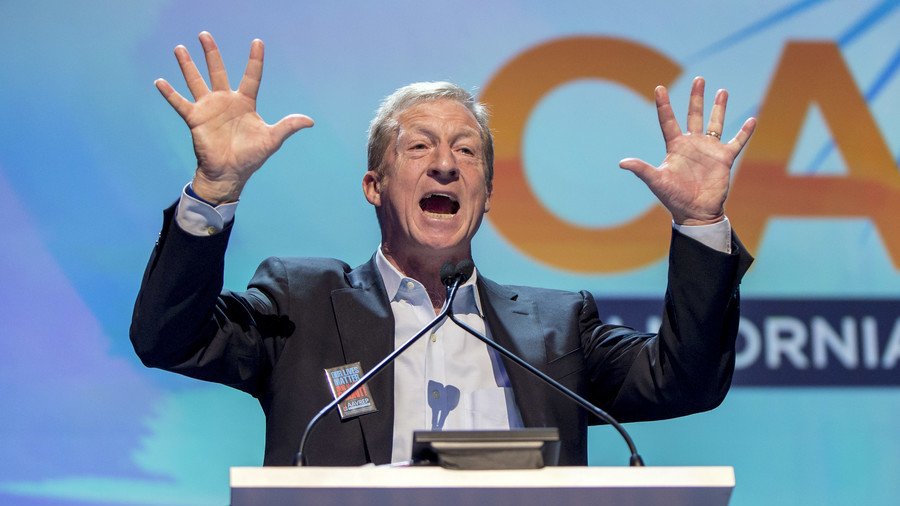 Billionaire Democratic donor Tom Steyer has accused US President Donald Trump of normalizing political violence, which instantly got Trump's Twitter thumbs working. Steyer was among those targeted in this week's mail bomb plot.
Trump went on one of his signature Twitter rants against Steyer on Sunday after CNN aired a wide-ranging interview with the billionaire hedge fund manager. Steyer, a vocal Trump critic, has accused the president of creating an atmosphere of hatred in society by pitting his supporters against everyone else.
Steyer was speaking in particular about the Pittsburgh synagogue massacre in which gunman Robert Bowers killed 11 people and injured six.
"I think his [Trump's] response to the tragedy was appropriate, but there's something much bigger than that going on here, which is the atmosphere that he's created – and that the Republican Party has created – in terms of political violence," Steyer said, adding that he was "absolutely" blaming Trump for the toxic atmosphere in the country.
Steyer checked all the marks, calling Trump "corrupt," saying he "has been breaking the law systematically," is generally unfit to run the country and must be impeached.
"If you ask Americans broadly – Democrats, Republicans and Independents – more people are in favor of that than aren't," the billionaire said.
Steyer said Republicans are the only ones fanning violence, while Democrats merely stand up to the virulent rhetoric coming from the GOP.
"You can't find prominent Democrats who are leading chants with violent overtones… all the kinds of attempts to play to people's strongest emotions."
One example of a Democrat doing exactly that is Rep. Maxine Waters (D-CA), who called on her supporters to harass Trump administration officials in public. Several Republican lawmakers have since been heckled and forced out of public eateries by angry protesters. "When we go low, we kick 'em" by Obama-era AG Eric Holder is another.
Trump, who had apparently tuned in to "failing" CNN to watch Steyer's censure, then took to his favorite medium, Twitter, to return the verbal blow. He even coined a nickname for Steyer – 'Wacky Tom Steyer' – a tell-tale sign that America's easily-irritated president is seriously upset.
"He comes off as a crazed & stumbling lunatic who should be running out of money pretty soon," Trump wrote.
Just watched Wacky Tom Steyer, who I have not seen in action before, be interviewed by @jaketapper. He comes off as a crazed & stumbling lunatic who should be running out of money pretty soon. As bad as their field is, if he is running for President, the Dems will eat him alive!

— Donald J. Trump (@realDonaldTrump) October 28, 2018
Trump's response to Steyer predictably set the Twitter 'Resistance' crowd alight. The attack on Steyer was branded "despicable" days after he was targeted by Cesar Sayoc's failed mail bombing. Sayoc, a Trump supporter, is charged with sending rudimentary pipe bombs to high-profile Democrats all over the country, with Steyer being the 14th target.
A domestic terrorist radicalized by Donald Trump sent Tom Steyer a bomb this week. Trump's response? To take to twitter and attack Tom Steyer in an unhinged rant. https://t.co/nWog91xBec

— Matt McDermott (@mattmfm) October 28, 2018
The same Tom Steyer one of your crazed followers mailed a bomb to last week? That Tom Steyer? WHAT THE FUCK IS WRONG WITH YOU? https://t.co/UifT4r5QSr

— Randi Mayem Singer (@rmayemsinger) October 28, 2018
One of Donald Trump's supporters sent Tom Steyer a bomb a few days ago. He's not dialing down the attacks, he's cranking them up. It's despicable. https://t.co/4Fit0trv92

— Adam Best (@adamcbest) October 28, 2018
You mean @TomSteyer who your #Trump-obsessed maniac tried to KILL this week? Sure, go ahead and mock that and incite more violence. Fits in well with your 'let's come together to fight evil and hate' bullshit. You're a sociopath...& one of the most despicable ppl on the planet...

— Andy Ostroy (@AndyOstroy) October 28, 2018
Steyer himself fired back at Trump, calling it "unthinkable" of Trump to name-call his opponents at a time when unity – presumably achieved by accusing the president of enabling mass murder on TV – is most needed.
'Straight up anti-Semitic'
Parallel to his bickering with Trump, Steyer has accused House Majority Leader Kevin McCarthy (R-CA) of posting anti-Semitic hate speech on Twitter. On Tuesday, McCarthy tweeted: "We cannot allow Soros, Steyer, and Bloomberg to BUY the election!" The call to "vote Republican" was posted before the spate of mail-bombing attacks. After the first suspicious package was discovered near the home of George Soros, McCarthy deleted his tweet.
Majority Leader Kevin McCarthy posted this tweet AFTER a bomb was sent to Soros' house. Up until a couple of minutes ago it was pinned to the top of his profile. pic.twitter.com/FEeKoPolHL

— Judd Legum (@JuddLegum) October 24, 2018
In the interview, Steyer called the post "a straight-up anti-Semitic move" and "a classic attempt to separated Americans."
"I think that absolutely falls into the category of what I'm describing as political violence," the billionaire added in a classic move of his own: labeling as anti-Semitic any criticism of a Democrat with a Jewish background, even when that background is in no way factored into the criticism.
McCarthy has not commented on the controversy, but his office said that that the congressman wanted to highlight "enormous financial contributions by a select few" and did not have any hidden agenda.
Steyer himself has a Jewish background, being born from a Jewish father and Episcopalian mother.
Like this story? Share it with a friend!
You can share this story on social media: