Trump calls synagogue attack an 'assault on humanity,' plans to go to Pittsburgh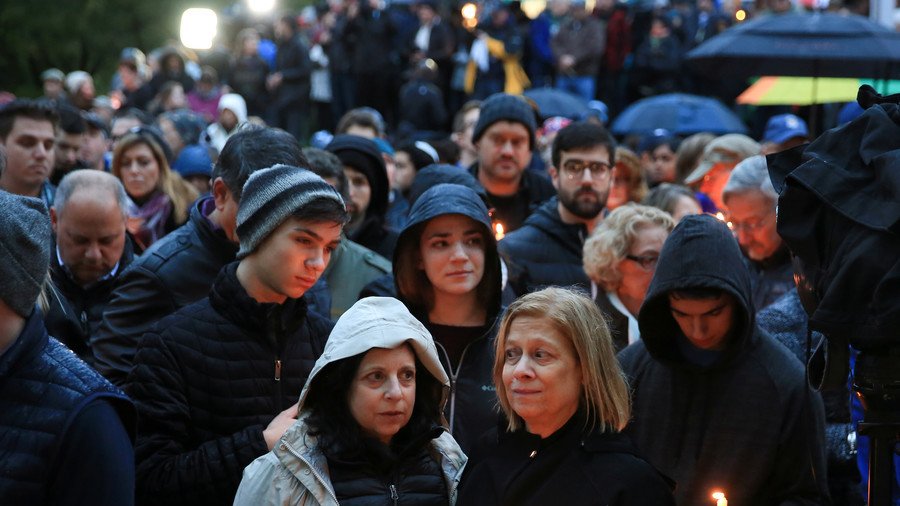 US President Donald Trump said he will travel to Pittsburgh, where a gunman with an AR-15 rifle went on a rampage inside a synagogue on Saturday. Trump has denied any link to the attack, saying the man was not his supporter.
Speaking to reporters ahead his scheduled rally in Illinois, the president confirmed that at least 11 people were killed as 46-year-old Robert Bowers opened fire on worshipers inside the Tree of Life synagogue in Pittsburgh during a Saturday service. Three or four police officers were injured in a stand-off with the attacker.
At the rally, Trump called the carnage "a monstrous killing" and thanked the officers for apprehending the suspect.
This evil anti-Semitic attack is an assault on all of us, it's an assault on humanity.
The president doubled down on his earlier call for capital punishment for the attacker.
"When you have crimes like this, we'll have to bring back the death penalty. They have to pay the ultimate price," he said. In the wake of the deadly shooting, Trump said that the US government "should stiffen up" laws, so it can bring perpetrators of such heinous acts to due justice.
Denouncing the "scourge of anti-Semitism," Trump vowed to "seek destruction" for those who perpetrate it.
Through the centuries the Jews have endured the terrible persecution, they've gone through a lot, and those seeking their destruction, we will seek their destruction.
Earlier, Attorney General Jeff Sessions did not rule out a death sentence for Bowers. The suspect faces hate crime and other criminal charges, "including charges that could lead to the death penalty," Sessions said in a statement.
The synagogue shooter posted his anti-Semitic slurs on the social network Gab, calling Jews the "children of Satan" on his now-deleted page. Right before the shooting, Bowers reportedly posted that he was "going in." Judging by his other posts, reported by the New York Times, Bowers was not a fan of Trump. He labeled Trump, who is a self-proclaimed nationalist, "a globalist, not a nationalist."
"There is no #MAGA, as long as there is a k*** infestation," Bowers reportedly wrote, using a denigrating term for Jews.
Bowers was charged with a total of 29 counts, including 11 relating to murder and obstruction of religious practices, 11 counts of firearms-related charges, four counts of inflicting bodily harm on police officers, and three counts of use and discharge of a firearm.
The attack comes just a day after police apprehended suspected mail bomber Cesar Sayoc, 56, who sent crude pipe bombs to prominent Trump critics, including former president Barack Obama, former secretary of state Hillary Clinton, billionaire George Soros, and several lawmakers.
None of the bombs went off, but the FBI said that the explosive devices were not dummies. Trump's opponents and some mainstream media argued that the president should bear responsibility for the scare, as Sayoc, dubbed "MAGAbomber" on Twitter, was an avid supporter of his.
Subscribe to RT newsletter to get stories the mainstream media won't tell you.
You can share this story on social media: