Saudi prince may be involved, but I want to believe he's not – Trump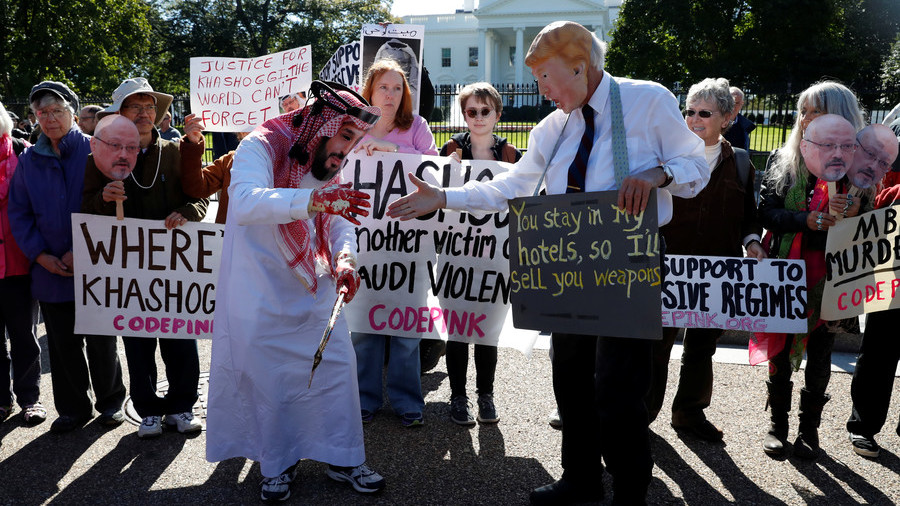 The Saudi Crown Prince might be implicated in journalist Jamal Khashoggi's murder, US President Donald Trump said. The US and its allies used harsh words to speak about the act, there's no harsh punishment to follow.
"Well, the prince is running things over there more so at this stage. He's running things and so if anybody were going to be, it would be him," Trump told the Wall Street Journal, answering a question about the Saudi crown prince's possible involvement into the killing of the journalist. He also added he was "convinced" that the Saudi King Salman did not know about the murder in advance.
However, Trump suddenly changed his stance, stating that he wanted to believe the prince is actually not involved in the incident. The US president told the WSJ that he repeatedly questioned Prince Mohammed about Khashoggi's death "in a couple of different ways" and the prince told him he did not "know anything about it in terms of the initial planning."
Asked whether he indeed trusts Mohammad bin Salman's words, Trump replied: "I want to believe them. I really want to believe them." Earlier, the US leader denounced Khashoggi's murder and its cover-up by the Saudi Arabia as a "total fiasco from day one."
However, he continued to refrain from openly condemning the Saudi government while still hailing its assistance to the US. Most recently, Trump called Riyadh "a very good ally of ours," adding that it has "been helping us a lot with respect to Israel."
While Saudi Arabia has never formally recognized Israel and, accordingly, maintains no official diplomatic relations with the Jewish state, Tel Aviv and Riyadh have been growing closer under Israeli Prime Minister Benjamin Netanyahu.
Over the past year, there have been several reports of clandestine meetings between Saudi and Israeli officials, including between the top statesmen: Netanyahu and Saudi Arabia's de-facto ruler Crown Prince Mohammed bin Salman. So far, Tel Aviv stayed conspicuously silent about the incident.
Western officials repeatedly publicly condemned the murder, while the Western media have been actively reporting on it for quite some time. However, the US and its allies fell short of taking any real punitive measures against Riyadh.
So far, the only measure taken by the West against Riyadh over its alleged role in the murder was the revocation of visas of 21 Saudi officials by the US.
What's more, according to Trump, Washington has no intention of halting arms exports to Saudi Arabia, which are worth billions of dollars. The US Treasury Secretary Steve Mnuchin also said that it "would be premature to comment on sanctions" against Saudi Arabia in the wake on the incident. Mnuchin also met with Mohammed bin Salman at a time when the investigation into the journalist's murder was already ongoing.
READ MORE: 'Saudis have been helping US a lot with respect to Israel, funding a lot of things' – Trump
Canada's Prime Minister Justin Trudeau echoed a similar sentiment, explaining that it was "very difficult" to drop arms deals with Riyadh worth billions of dollars. Even though some top ranking Western officials did pull out of the three-day financial conference in Riyadh held after the murder, it still did not stop Saudi Arabia from signing $50 billion worth of contracts, which involved some Western corporate giants as well.
The murder of the journalist, however, provoked more reactions from US and other Riyadh allies than the reports of multiple civilian fatalities in Yemen from Saudi bombings.
Like this story? Share it with a friend!
You can share this story on social media: