Instant karma: Antifa protester loses job for abusing 9/11 widow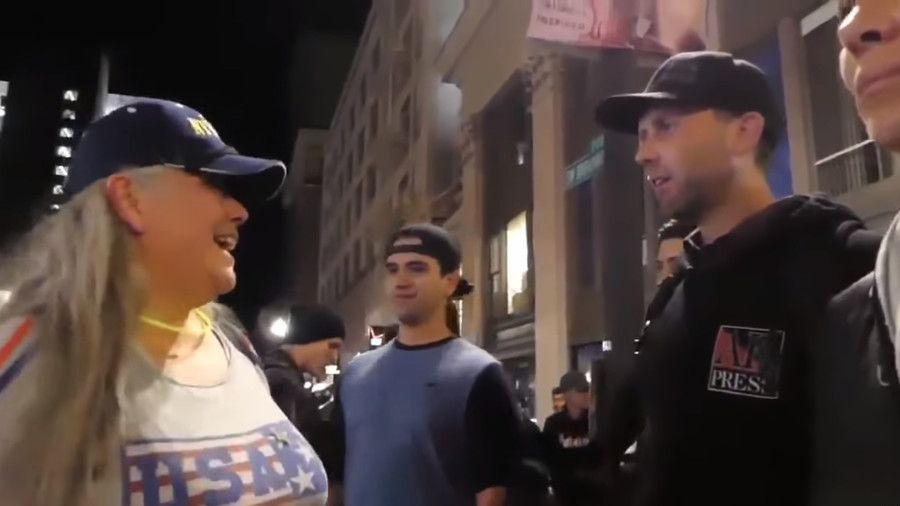 An Antifa protester who told a 9/11 widow that her husband should "rot in his grave" was served an instant dose of karma when he was identified and promptly fired from his job on Saturday.
In a video that went viral last week the man, later identified as Steve Wilson, picks a fight with a woman at a crosswalk in Portland, Oregon. After heckling the woman for allegedly blocking him, she responds that she is merely waiting for the crossing light to turn green.
"You're a f*cking little snarky little f*ckin' idiot, aren't you?" he snaps.
When he continues with the abuse, the woman dares him to "try something." In response, Wilson says he isn't going to punch her because he "wasn't like her husband." When the woman responds that her husband was a New York police officer who died on 9/11, Wilson follows up with a rant about how the NYPD "sodomized immigrants with their bully sticks" and concludes with: "Your husband should rot in the grave."
Justice was served to Wilson in two doses. He was first forced to turn and flee with his tail between his legs when confronted by the woman's muscular and imposing son. Then, online sleuths managed to track down his Facebook page and identify him.
Wilson worked as a data specialist at Self Enhancement, Inc., a youth development organization. However, after the organization learned of his abusive behavior, Wilson was fired on Saturday.
Wilson's costly confrontation with the woman occurred on October 13, as the right-wing Patriot Prayer and Proud Boys groups took to the streets to demand Mayor Ted Wheeler's resignation. The protest devolved into violence as the right-wing groups clashed with Antifa counter-protesters, both groups duking it out on the streets until police intervened with pepper spray.
The clash was one of many violent protests and brawls that have rocked Portland since President Donald Trump's election, and one of even more that have taken place nationwide ahead of a bitterly partisan midterm election next month.
While justice was swiftly served to Wilson, an innocent person got caught in the fallout as well. Online detectives first misidentified Portland professional skateboarder Charlie Wilkins as the mouthy Marxist. As threats and abusive messages poured in last Thursday, Wilkins took to Instagram to clear his name and condemn Wilson's "disgusting" tirade.
"I just think he's horrible to say that to anybody," Wilkins told KGW. "I would never say that to anybody."
For Wilson, his newfound lack of employment now clears up his days for more street protest and harassment, presumably.
Like this story? Share it with a friend!