NYPD suspends body cameras for cops after device explodes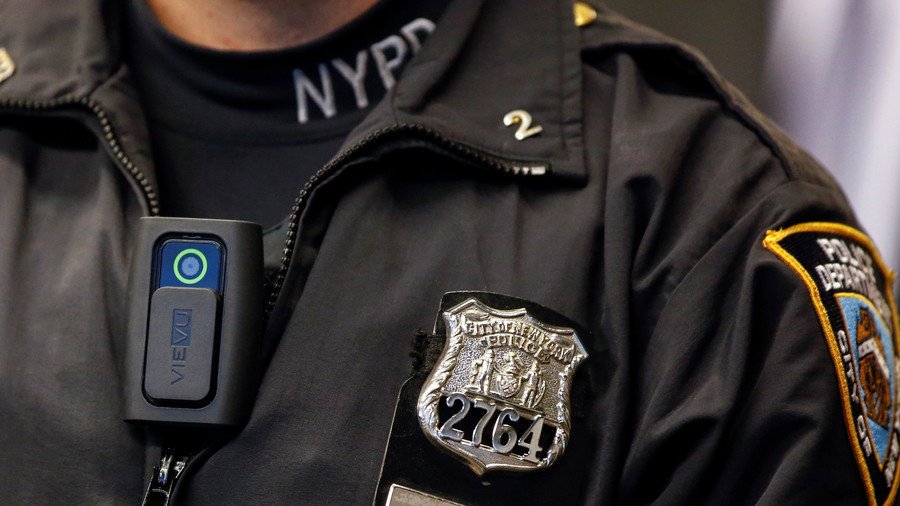 The New York Police Department has suspended the use of almost 3,000 body cameras after one exploded, leaving some of the city's police force unrecorded for the foreseeable future. According to studies, not much will change.
An NYPD officer noticed smoke rising from his camera on Saturday, and took it off before it exploded. Nobody was injured in the incident, but the department instructed all officers equipped with Vievu LE-5 body cameras to return them to their precincts.
"Nothing is more important than the safety of our officers, and equipping the NYPD with the best equipment is a paramount priority," read a statement from the NYPD. The department believes that a battery malfunction caused the device to explode.
There are 2,990 NYPD officers with LE-5 cameras, and another 12,500 with an older model. Officers with the older model will continue to wear their cameras.
The NYPD began outfitting its officers with body cameras in 2017, and before this weekend's mishap, all patrol officers were on track to be equipped with the devices by the end of this year. Proponents hope that having an objective record of officers' interactions with suspects and the general public can force the officers to remain on their best behavior at all times.
The idea took off following the police shooting of Michael Brown in Ferguson, Missouri in 2014, and by 2015, 95 percent of large police departments nationwide had began or planned to begin using the cameras in some way.
However, one study conducted in Washington DC and released last year found that officers wearing cameras still received almost the same amount of civilian complaints as officers who didn't.
"Law enforcement agencies (particularly in contexts similar to Washington, DC) that are considering adopting BWCs [cameras] should not expect dramatic reductions in use of force or complaints, or other large-scale shifts in police behavior, solely from the deployment of this technology," the study concluded.
In New York, misconduct complaints against NYPD officers actually increased after body cameras were rolled out last year. The Civilian Complaint Review Board reported 4,487 complaints in 2017, up 202 from 2016. Before the uptick, complaints had been declining since 2009.
Complaints were evenly split between black and white officers, and over half of all the complainants alleged an "abuse of authority." Police union boss Patrick Lynch called the increase "meaningless," stated that 90 percent of them resulted in no finding of misconduct, and accused the CCRB of "anti-cop bias."
Body camera footage has been crucial in implicating or exonerating officers in certain cases, however. In the police shooting of a mentally ill man in the Bronx last September, activists argued that body camera footage showed that officers failed to do enough to de-escalate their confrontation with the man, who they mowed down with gunfire after he waved a replica gun at them.
On the other hand, body camera footage helped clear Bronx Sergeant Hugh Barry, who was charged with murder after he shot a schizophrenic woman in her apartment in October 2016. Barry claimed the woman charged him with a baseball bat, a claim that his body camera backed up. Barry was acquitted this February.
After this weekend's malfunction, almost 3,000 officers will now hit the streets unrecorded. However, according to complaint records and national studies, little will change.
Subscribe to RT newsletter to get stories the mainstream media won't tell you.
You can share this story on social media: