Haunted by 'slaves' or 'dead Iraqi soldiers'? Social media reacts to Bush daughter's WH ghost story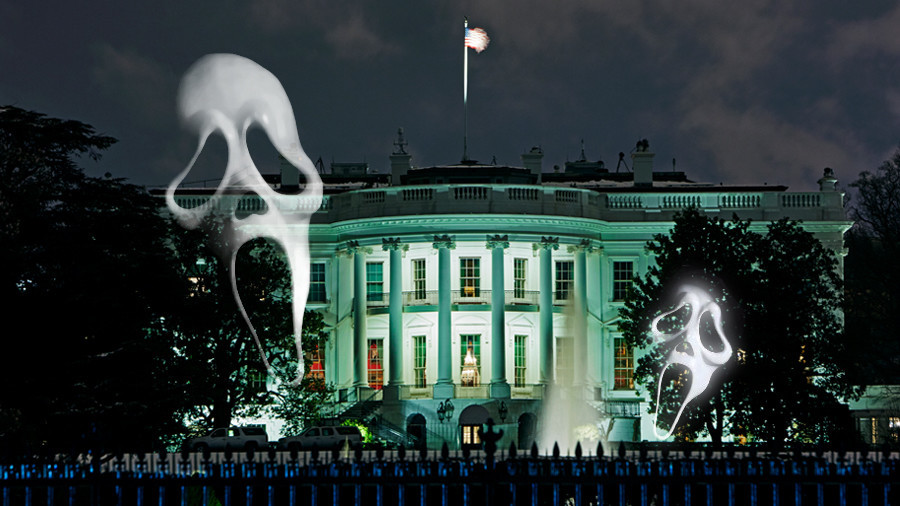 George W. Bush's daughter has had some Halloween fun on TV, opening up about "ghosts" in the White House. It prompted some on social media to say there is evil lurking in the mansion.
People can decide for themselves whether to believe the spine-tingling tales of Jenna Bush, now NBC Today show host, or not. Yet, her colleague was all ears when the former first daughter revealed her chilling story in colorful epithets. If she didn't narrate the spooky stuff with a bit of humor and there wasn't a funny ghost appearing in the video, we might have believed that Jenna had an experience similar to one that characters in the American Horror Story franchise had.
Jenna Bush Hager was nearly 20 when she relocated to the official residence of the US president. Yet, she and her twin sister, Barbara, claim they found something scary lurking inside the 200-year-old building at 1600 Pennsylvania Avenue.
"My phone rang, it woke us up in the middle of the night (Do you have goosebumps now?)," she said, "All of a sudden, we started hearing 1920s piano music — as clear as day — coming out of the fireplace. I jumped in Barbara's bed!"
The next week 'the concert' continued, but the repertoire was different – it was opera music (they definitely have some style in the WH!).
When Jenna confided the eerie story to a WH worker named Buddy, he ominously replied, "Oh Jenna, you wouldn't believe what I've heard." Despite spooky feelings, Jenna is convinced that the ghosts came with "good intentions." "They were friendly ghosts," she added.
While it's questionable if Jenna Bush does actually believe in ghosts, some people on social media didn't share the ex-first daughter's pre-Halloween fun. One person couldn't resist mentioning Bush's campaign in Iraq: "Haunted by all the people her father killed in Iraq," he wrote.
Her dad's a war criminal so maybe they're haunted by that?

— LodeStarFarmer (@TheSeaFarmer) October 15, 2018
Others looked deeper, saying that the house was probably haunted by "the slaves who built it."
And some people sided with ghosts.
I wish all those ghosts would get together and stage a takeover of the whitehouse

— Tabularasa (@pldLMT) October 18, 2018
There were others, however, for who Jenna's story was quite convincing.
I believe there is evil in that location, yes.

— Benjamin Radford (@BTRadford) October 18, 2018
No doubt!! Many soles have been through that place

— Robby Mcgee (@Mcgee6Robby) October 15, 2018
The White House 'ghosts' are the subject of numerous stories and speculation throughout the building's history. Even former British PM Winston Churchill once claimed that he saw Abraham Lincoln sitting by the fireplace.
The ghost of the president, who abolished slavery, is said to be a 'frequenter' in America's executive mansion.
Think your friends would be interested? Share this story!