Trump threatens Honduras with aid cut unless new 'caravan of people' stopped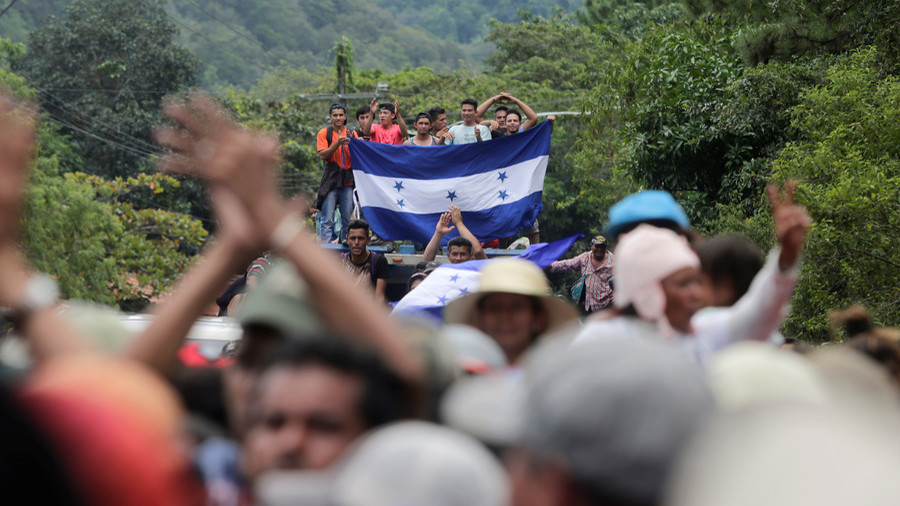 US President Donald Trump said US aid to Honduras will be stopped unless its government stops a so-called "caravan" from heading towards the US border. Washington gave $175 million to Tegucigalpa last year.
The threatening tweet on Tuesday came in response to reports that around 1,600 Hondurans have banded together to travel north and eventually reach the US. They hope their lives in America will be free of the violence and poverty of their home nation. Honduras is one of the most dangerous countries in the world to live in, while about two-thirds of the population lives in poverty.
The United States has strongly informed the President of Honduras that if the large Caravan of people heading to the U.S. is not stopped and brought back to Honduras, no more money or aid will be given to Honduras, effective immediately!

— Donald J. Trump (@realDonaldTrump) October 16, 2018
On Friday, the caravan left San Pedro Sula, a large city in the northwest of the country, despite warnings from US Vice President Mike Pence that they would be turned back at the US border. The people sang the national anthem of Honduras and chanted Barack Obama's campaign slogan, "Yes, we can!"
The government said it will act to stop the caravan from crossing into Guatemala. As of Monday, however, around 3,000 were already in the neighboring country, making it a difficult task for Tegucigalpa to deliver on the promise. Guatemalan police initially blocked the migrants, but the group was ultimately able to cross, according to Reuters.
The caravan is the second this year. Earlier in April, when a similar group of hundreds of people sought to migrate to the US, Trump also threatened to cut aid. The vast majority failed to reach the US, but a handful of asylum seekers did manage to enter.
The caravan's departure comes as campaigning for the US midterm elections in November enters the final few weeks.
Think your friends would be interested? Share this story!