Chief spreading bull: Cherokee Nation rejects Elizabeth Warren's DNA results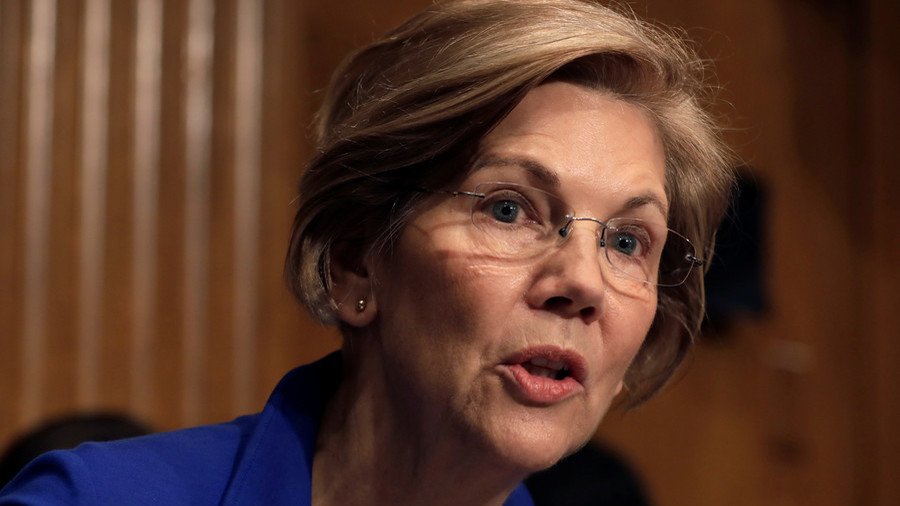 The Cherokee Nation has rejected the DNA results of Massachusetts Sen. Elizabeth Warren (D), which showed distant Indian ancestry. Warren, they say, "is undermining tribal interests with her continued claims of tribal heritage."
Warren has long been ridiculed by President Donald Trump for claiming Native American ancestry, with Trump dubbing her 'Pocahontas' and accusing her of claiming minority status for personal and career gain.
However, Warren looked set to silence Trump on Monday when she released the results of a DNA test showing "strong evidence" she may have had a Native American ancestor 6-10 generations ago.
Warren's disclosure was met with a scoff by Trump, who succinctly said "who cares?" when asked about the results by reporters. Mocked by Trump, Warren was then spurned by the Cherokee Nation, the largest of three federally recognized Cherokee Indian tribes in the US.
"A DNA test is useless to determine tribal citizenship," read a statement from Cherokee Nation Secretary of State Chuck Hoskin Jr.
"Current DNA tests do not even distinguish whether a person's ancestors were indigenous to North or South America."
"Using a DNA test to lay claim to any connection to the Cherokee Nation or any tribal nation, even vaguely, is inappropriate and wrong," Hoskin continued. "It makes a mockery out of DNA tests and its legitimate uses while also dishonoring legitimate tribal governments and their citizens."
Warren responded with a tweet accusing Trump of racism, and clarifying the distinction between DNA and tribal citizenship. "I respect the distinction, & don't list myself as Native in the Senate," she explained.
While Warren now counts her Native heritage as part of her family's lore, she did at several points in time refer to herself as "Native American" and "Cherokee."
I won't sit quietly for @realDonaldTrump's racism, so I took a test. But DNA & family history has nothing to do with tribal affiliation or citizenship, which is determined only – only – by Tribal Nations. I respect the distinction, & don't list myself as Native in the Senate.

— Elizabeth Warren (@elizabethforma) October 15, 2018
The DNA test results show Warren is somewhere between 1/64 and 1/1,024 Native American, or between 0.097 and 0.156 percent. Furthering Warren's self-own, it turns out the average American has 0.8 percent Native blood, making her claim even less impressive.
Elizabeth Warren screwed up.She launched her Indian War right before the midterms. Translation: She's betting this story will be a political winner for not just her but Dems nationally.Odds of that happening?About 1/1,024.

— Bryan Dean Wright (@BryanDeanWright) October 15, 2018
Somewhere, in a Senate room, Elizabeth Warren and at least one staff member must have thought, "This DNA test is a great idea. That'll show em!" Because she's 1/1,024 Native American. That might be my favorite part in all of this.

— Britt McHenry (@BrittMcHenry) October 15, 2018
Warren's dramatic revelation was accompanied by a video and a fact-checking page on her website. In the video, Stanford University geneticist Dr. Carlos Bustamante tells Warren "the facts suggest that you absolutely have Native American ancestry in your pedigree."
The high-profile disclosure was widely seen as a means of disarming one of President Trump's favorite ways to insult the Massachusetts senator, ahead of a potential run at the presidency in 2020.
Warren has been hotly tipped to challenge Trump for the presidency in 2020, with the progressive senator running on a platform of single-payer Medicare for All, a $15 minimum wage, and strict gun control. Warren said earlier this month that she will strongly consider running in 2020, once next month's midterm elections are done.
Trump said in July that if he were debating Warren, he would toss a home DNA testing kit at her and pay her $1 million to prove her heritage. On Monday, Trump said he would pay up, but only if he "can test her personally."
"That will not be something I enjoy doing either," he added.
Pocahontas (the bad version), sometimes referred to as Elizabeth Warren, is getting slammed. She took a bogus DNA test and it showed that she may be 1/1024, far less than the average American. Now Cherokee Nation denies her, "DNA test is useless." Even they don't want her. Phony!

— Donald J. Trump (@realDonaldTrump) October 16, 2018
Like this story? Share it with a friend!
You can share this story on social media: