Weight loss & sex supplements are hiding dangerous substances inside – study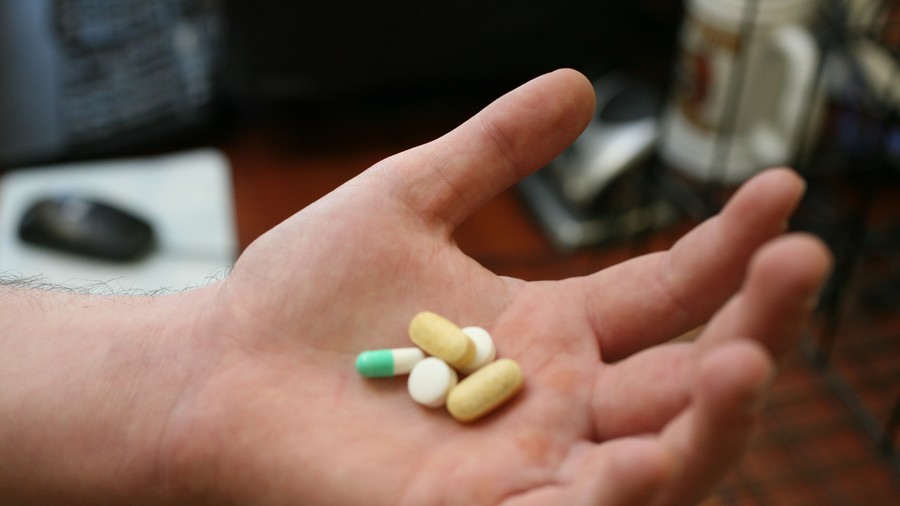 Dietary supplements promising enhanced sexual pleasure, weight loss, and muscle gain secretly contain dangerous pharmaceuticals, researchers warn. The FDA has failed to crack down on offenders, they say, placing Americans at risk.
Researchers from the California Department of Public Health found 776 tainted supplements listed by the Food and Drug Administration (FDA) between 2007 and 2016.
READ MORE: Medical cannabis to be made available by prescription in UK from next month
Supplements promising enhanced sexual pleasure accounted for 46 percent of the offending products, with weight loss supplements coming in at 40.9 percent and muscle building products at 11.9 percent, the study reveals.
The products contained a number of pharmaceuticals, including the active ingredient in Viagra (sildenafil), as well as sibutramine – an appetite suppressant that was taken off the market because of links to strokes and heart attacks. Meanwhile, muscle building supplements were found to contain synthetic steroids.
In 98 percent of the tainted supplements, the offending ingredients weren't even listed on the labelling. One in five products was found to contain more than one hidden drug.
More than half of American adults take dietary supplements, which the FDA defines as "any vitamin, enzyme, botanical, amino acid, or mineral that is not intended to cure or prevent a disease."
The illicit drugs found in the supplements "have the potential to cause serious adverse health effects owing to accidental misuse, overuse, or interaction with other medications, underlying health conditions, or other pharmaceuticals within the supplement," the study warns.
However, less than half of these products were recalled after the FDA learned of their contents, which has left the federal agency facing criticism for failing to pursue companies that are selling the misleading supplements.
A number of products continue to contain unapproved prescription drugs after first being flagged by the FDA. The study found that 28 products were listed in two or three different warnings more than six months apart, and 19 of these were found to contain new, unapproved ingredients in the later warnings.
Like this story? Share it with a friend!