'I love him!' Kanye West takes over Oval Office in curse-filled meeting with 'hero' Trump (VIDEOS)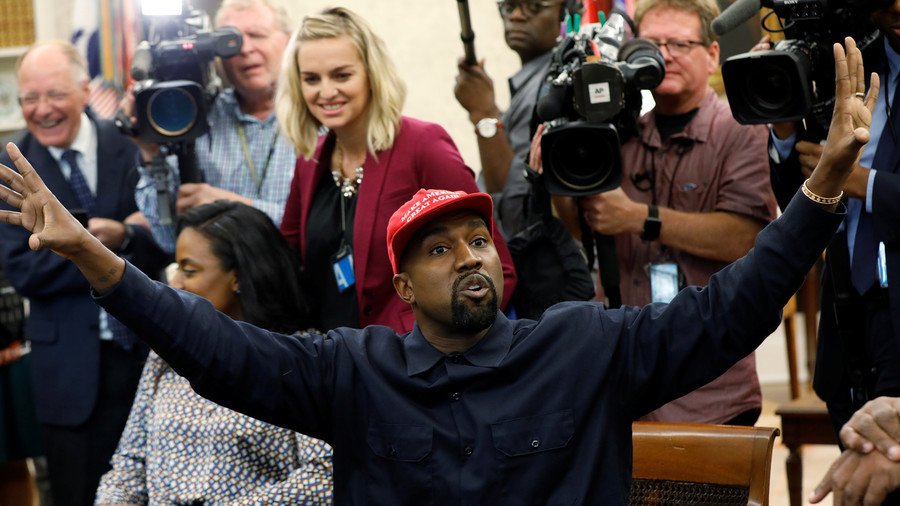 Kanye West has made it to the Oval Office for a meeting with his buddy Donald Trump, bringing with him a number of unconventional remarks - and likely becoming the first invited guest to say "mother f***er" in the White House.
West could be seen proudly sporting his bright red "Make America Great Again" hat, saying that it made him feel like "superman."
He went on to praise Trump, saying the president is on a "hero's journey" right now. West then threw all etiquette and protocol out the window, laying down the F bomb in the Oval Office, in a rant that was being broadcast live across numerous media outlets.
He might not have thought he'd have a crazy mother f**ker like me [supporting him]
The entertainer also shouted the word "bulls**t" at one point, urging the press to beep it out if they needed to, stressing that they had a "five second delay" that allowed them to do so. Trump grinned.
West, never at a loss for words, then moved onto the subject of the 13th amendment - which abolished slavery - by once again saying that the amendment itself should be done away with.
It's a trapdoor!...the four gentlemen who wrote the 13th amendment didn't look like the people they were amending!
He also spoke of the need for jobs in America, saying that if people don't have jobs, they end up in the "cheapest factory ever - the prison system."
West even had something to say about Air Force One, stating that Apple should build a hydrogen-powered iPlane to replace the presidential aircraft, showing Trump a design for the plane on his iPhone.
At the end of the almost 10-minute monologue, Trump responded by saying:
That was really something.
West responded by saying:
It was from the soul. I just channeled it.
When asked by a member of the press whether West was looking to run for president, he said that would only happen after Trump had served two terms.
"Only after, in 2024!" he said, adding that everyone needs to stop talking about the future because "all we have is today."
At the end of the weirdest Oval Office meeting ever, Kanye gave Trump a hug. "I love this guy!" he said.
"That's really nice, and that's from the heart," his BFF Trump responded.
Like this story? Share it with a friend!
You can share this story on social media: