'Actor does job': Fox News gun control hit piece on Jamie Lee Curtis backfires spectacularly
The lines between satire and stupidity have been blurred significantly in recent times as online partisanship and general memery makes fools of us all, and Fox News is no exception.
"Jamie's got a gun in the latest 'Halloween reboot,'" is the opening line of the Fox News article published on October 10, in which the news organization decries Jamie Lee Curtis' character using a firearm to defend herself against antagonist serial killer Michael Myers in the 11th film of the popular horror franchise.
No, this Mike Myers:
The author then calls 'hypocrisy!' for Lee Curtis' apparent double-standards in promoting gun control in the real world but not in any of her fictional films, such as 'True Lies' alongside former California governor and Hollywood strongman Arnold Schwarzenegger.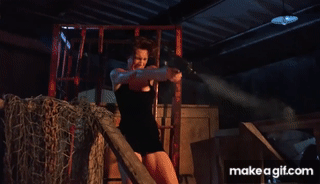 All previous light hearted tweets get dismissed immediately as the heavy heart reality of another school shooting takes us back to the need for stronger gun legislation.

— Jamie Lee Curtis (@jamieleecurtis) May 18, 2018
The Fox News author then cites Republican senator and former presidential candidate Ted Cruz:
"Hollywood liberals on gun control is akin to Hollywood liberals on global warming," Senator Cruz previously told TMZ.
"Which is they fly their private jets to a conference, step out and say, 'Global warming is terrible… Same thing on gun control. If you have a bevy of armed security officers protecting you, maybe you shouldn't be trying to strip Second Amendment rights from law-abiding citizens."
When Fox News tweeted a link to the article, derision was swift, relentless and mostly GIF-based.
Hey Fox do you not realize the difference between fantasy/fiction and reality?

— AltNSA (@AltNatSecAgency) October 10, 2018
Though some defended the article, they were few and far between.
That's not the point. If you believe strongly against something, then you're not going to depict it in any way. If I was strongly against abortion, then I wouldn't be in a movie that required me to have an abortion. It's called morals.

— Kohlton Smith (@okohltonhd) October 10, 2018
Like this story? Share it with a friend!
You can share this story on social media: