'Pretending they're enslaved': Kavanaugh protesters outside Supreme Court mocked on Twitter
Published time: 10 Oct, 2018 13:45
Edited time: 11 Oct, 2018 07:56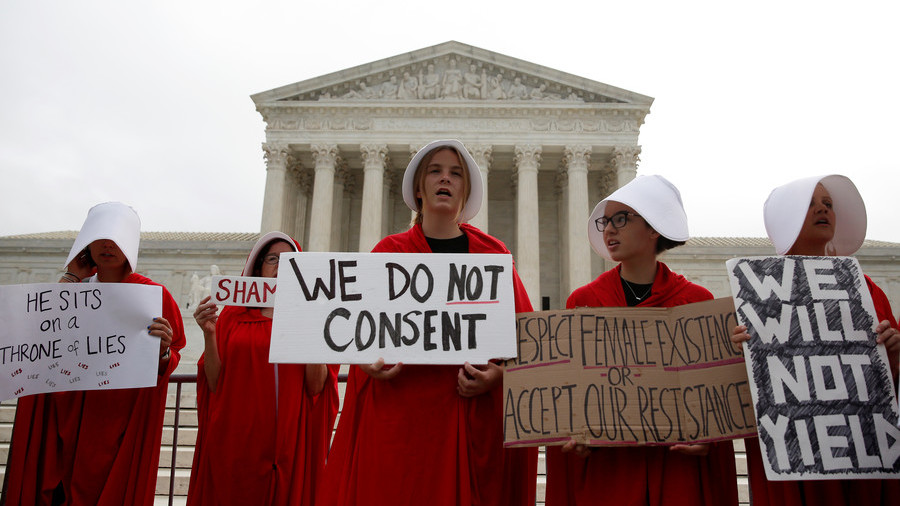 Protesters continued to take a stand against Supreme Court Justice Brett Kavanaugh this week, but came in fewer numbers and were mocked online. Meanwhile, Democrats are still bitter about Kavanaugh's confirmation.
Newly minted Supreme Court Justice Brett Kavanaugh arrived for work on Monday to a familiar sight: protesting women dressed in 'Handmaid's Tale' costumes.
The crowd was orders of magnitude smaller than the throngs of women who occupied Senate halls and heckled Republican senators in the runup to Kavanaugh's critical confirmation vote last Saturday, but used the same costumes and held the same signs: "Kava-Nope," "Believe Survivors," and "We do not consent."
As Justice Kavanaugh settles into his lifetime seat on the bench of the nation's highest court, the left remains angry. Hillary Clinton said on Tuesday that President Trump's remarks at Kavanaugh's swearing-in ceremony "further undermined the image and integrity of the court." Trump used the ceremony as a platform to decry the "campaign of political and personal destruction" waged against Kavanaugh.
The left's use of uncorroborated sexual assault allegations to block Kavanaugh's path to the Supreme Court, Trump said, violated "every notion of fairness, decency and due process."
Sporadic protests have continued throughout Washington DC, and Clinton urged Democrats to reject calls for civility until Republicans are driven out of office. Republicans slammed Clinton for her statement, especially as it came after Republicans were "shot, stabbed, doxxed, beaten, mailed powder, run out of restaurants, and sent death threats," in the age of the Trump administration.
"Seriously, Hillary?" was the reaction of Republican Congressman Steve Scalise, who was seriously wounded last year when a shooter – who was a registered Democrat – targeted a Congressional Republican baseball practice in Virginia.
"I guess that's why she lost," Trump said when asked about Clinton's call to incivility. "She doesn't get it. She never did. I knew that a long time ago. Hillary never got it. That's why she lost."
Trump has also blasted the "paid protesters" and "elevator screamers" opposing Kavanaugh. Before the pivotal vote, several of the women confronting lawmakers in Senate halls were revealed to be high-ranking members of activist groups funded by billionaire liberal financier George Soros.
Soros' Open Society Foundations organization admitted to funding the groups, but denied that the protesters were acting under direction.
Think your friends would be interested? Share this story!