Did he or didn't he? CCTV footage released of security guard's 'ghostly' encounter (VIDEOS, POLL)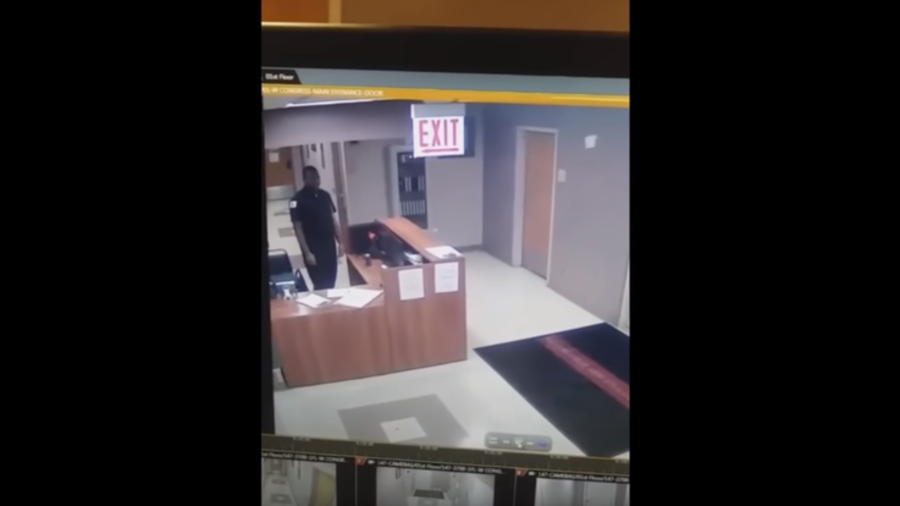 A security guard at a Chicago nursing home is sharing spooky surveillance footage of his creepy encounters with a 'ghost' that he claims floated by him while he was on duty - and continues to haunt the building.
Security officer Jay Brown posted the unsettling footage on Facebook, where it has racked up more than 2.5 million views and almost 60,000 shares since it was recently uploaded.
Brown said he was working the night shift at the residential apartment for senior citizens when he heard two footsteps behind the front desk. The CCTV footage shows Brown standing up to see where the noise is coming from - the moment he claims he saw a greyish mist move past him.
READ MORE: Letters from beyond the grave? Posing as ghost of ex's mother earns jilted man suspended jail term
Convinced that he had just seen a ghostly presence - possibly of a resident who passed away in the home - Brown reviewed the footage and claims the video is proof of his ghoulish sighting. "I stood my [ground] though," he wrote.
Since then Brown has continued to share more 'damning' footage of possible paranormal activity. His follow-up posts include two more supposed sightings of the 'ghost', who he says appears to be feeling more comfortable around him, and a ceiling light suspiciously falling to the ground.
Spooked viewers left over 100 comments under Brown's original post, with many telling Jay to quit his job "ASAP" or start bringing a bible to work to ward off any evil spirits. Others shared strange experiences they have had in the same building, like elevator doors opening randomly and documents moving inexplicably.
But what do you think he saw? Take RT's poll:
You can share this story on social media: