'A lying slip-and-fall con artist' – Kavanaugh accuser savaged for TV interview
Published time: 2 Oct, 2018 14:05
Edited time: 3 Oct, 2018 08:06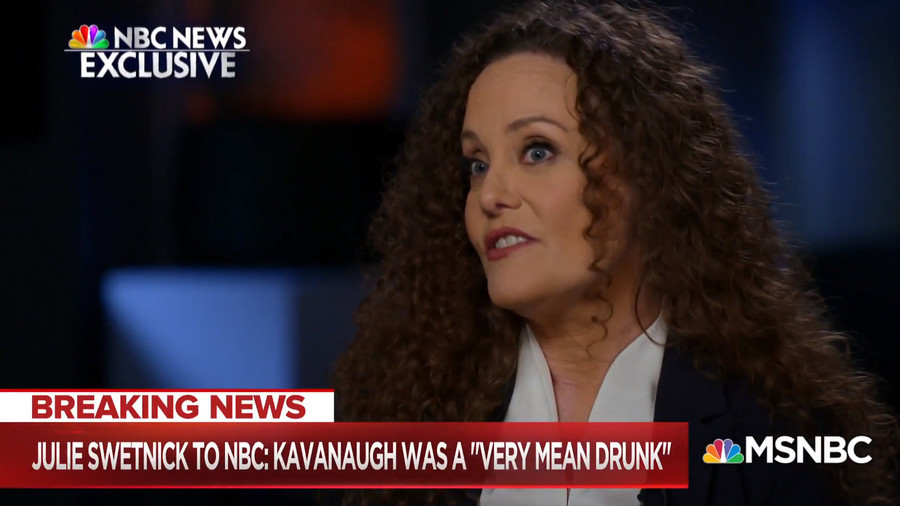 Julie Swetnick, the third woman to accuse Supreme Court nominee Brett Kavanaugh of sexual assault, has been slammed for giving a TV interview full of wild and unprovable allegations.
In an interview with MSNBC on Monday night, Swetnick said that she saw Kavanaugh "go up to girls and paw on them… touching them in private parts" at high-school parties in the early 1980s. She claims that Kavanaugh's friends would gang-rape young girls in bedrooms at these parties, and that she herself was gang raped at one such party in 1982.
"My body was violated," she told host Kate Snow. "My soul was broken... I felt like somebody took me and basically said, 'You're worthless. You are nothing to us. You are disposable.'" She claimed that Kavanaugh may or may not have been involved in the alleged attack.
"I cannot specifically say that he was one of the ones who assaulted me," she said.
Kavanaugh denies the allegations, and denies even knowing Swetnick. NBC News was unable to corroborate any of Swetnick's claims, and of the four friends she claims she went to these parties with, one is dead, two did not comment, and a fourth said he didn't know Swetnick.
In addition, Swetnick said she told her mother and a police officer about the attack, both of whom are also deceased.
Swetnick was ripped apart on Twitter for her "exaggerations."
In Monday's interview, Swetnick backtracked significantly on claims she made in a sworn affidavit released through lawyer Michael Avenatti – best known for representing porn star Stormy Daniels in her lawsuit against President Trump.
In the original affidavit, Swetnick said she remembered Kavanaugh spiking women's drinks and directly participating in the gang rapes. Now, she told Snow that she doesn't "know what he did" for sure. Furthermore, Swetnick said in the interview that Kavanaugh was wearing his Georgetown Prep school uniform when the pair allegedly met. Georgetown Prep students do not and have never worn uniforms.
READ MORE: American shame: US has nothing to teach the world about justice or politics after Kavanaugh farce
The Federalist's Sean Davis called Swetnick "a lying slip-and-fall con artist with a prostitute's PR rep for a lawyer." Journalist Sean Walsh called her "an unbalanced woman fabricating outrageous stories for attention," who should face legal consequences. Lying in a sworn affidavit is considered perjury, and carries a penalty of up to five years' imprisonment, depending on the jurisdiction.
Swetnick has been on the receiving end of sexual harassment accusations herself before. A former employer accused her of harassing male co-workers with "unwelcome sexual innuendo" in a lawsuit that was dismissed in 2000. In addition, an ex-boyfriend petitioned for a restraining order against Swetnick in 2001, accusing her of threatening his family.
Bizarrely, Swetnick has an even longer history of legal disputes, being involved in six cases in the last 25 years. In one 1994 civil case, Swetnick filed a personal injury suit in Maryland, suing the Washington Metropolitan Area Transit Authority for lost modeling and acting earnings after she hurt her nose in a fall on a train in 1992.
READ MORE: Hypocrisy much? Left & right slam Comey's 'shot clock' oped about Kavanaugh FBI probe
Swetnick claimed she lost more than $420,000 in modeling and acting revenue after the fall, but was found to have fabricated the companies that supposedly employed her, with her then-boyfriend posing as one agency executive. The suit was dropped two weeks later.
Avenatti dismissed his client's legal history as "hearsay" and "irrelevant," and offered his client's willingness to cooperate with the FBI as proof of her honesty. So far, President Trump has not asked the agency to look into Swetnick's story.
Kavanaugh called the story "nonsense" and a "farce" in his testimony to the Senate Judiciary Committee last Thursday. He has also emphatically denied all charges of sexual misconduct.
"You know what I say to that?" Swetnick said on Monday, "He's a liar."
Kavanaugh's Senate confirmation vote is currently in limbo, after President Trump requested that the FBI perform an investigation into the claims of Kavanaugh's original accuser, Christine Blasey Ford. The agency has been given one week to investigate Ford's claims, and a vote will be held at some point afterwards.
Think your friends would be interested? Share this story!