'They have to keep us happy': Trump brandishes his 'powerful' tariff stick at India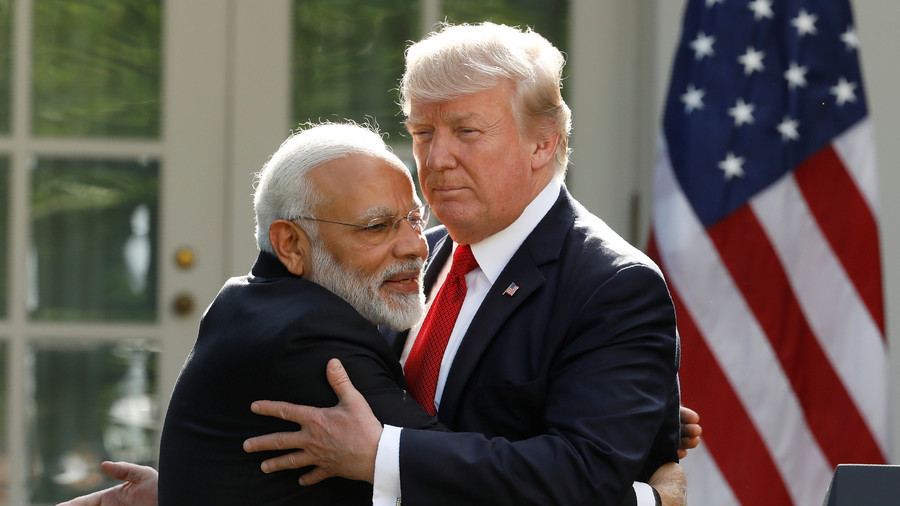 Already engaged in numerous trade disputes across the globe, Donald Trump has slammed India as a "tariff king" that is clinging to the "privilege" of trading with the US and struggling to negotiate a deal to appease Washington.
"India, which is the tariff king, they called us and they said, 'We want to start negotiations immediately,'" Trump said on Monday as he announced a new trade agreement between the United States, Mexico and Canada that would replace the 1994 NAFTA.
New Delhi allegedly reached out to United States Trade Representative Robert Lighthizer in an effort to negotiate new terms just to keep President Trump "happy."
"Isn't that nice? Isn't that nice? It's true. They have to keep us happy, because they understand that we're wise to what's been happening," Trump claimed on Monday.
India and the US have been trying to negotiate favorable trade conditions since June after Washington slapped the country with new steel and aluminum import duties in March.
While New Delhi threatened tariff hikes on 29 American products worth $10.6 billion as early as August, Prime Minister Narendra Modi's government reportedly decided to postpone the retaliatory measures pending negotiations with US officials, who are seeking to reduce its $31-billion deficit with India. Unless an agreement is reached between the sides, India's hikes will go into effect on November 3.
In similar comments last Saturday, Trump noted that India wants to negotiate a trade deal with the US to avoid further tariffs on their products. Overall bilateral trade between the two nations stood at $115 billion in 2016.
On Monday, Trump claimed that his aggressive protectionist trade policies against other countries, namely China, are pressuring other nations to seek new terms with the US to avoid possible commerce disputes.
"So, because of the power of tariffs and the power that we have with tariffs, we, in many cases, won't even have to use them," Trump said. "That's how powerful they are, and how good they are. But in many cases, we're not going to have to use them."
READ MORE: US lost its credibility by engaging in trade war with the world – Erdogan
The US president called it a "privilege" for trading partners, like China and the European Union, to do business with the US, accusing them of staging an "attack" on the "piggy bank."
Commenting on deteriorating trade relations with China in wake of the latest round of tit-for-tat tariffs on $260 billion of bilateral trade, Trump noted that he is not yet ready to stop the trade war with Beijing. "China wants to talk, very badly," said the president. "And I said, frankly, it's too early to talk. Can't talk now."
Like this story? Share it with a friend!