'Dime store Barbie!' Kathy Griffin tells Tomi Lahren to 'f**k herself' over anti-Obama views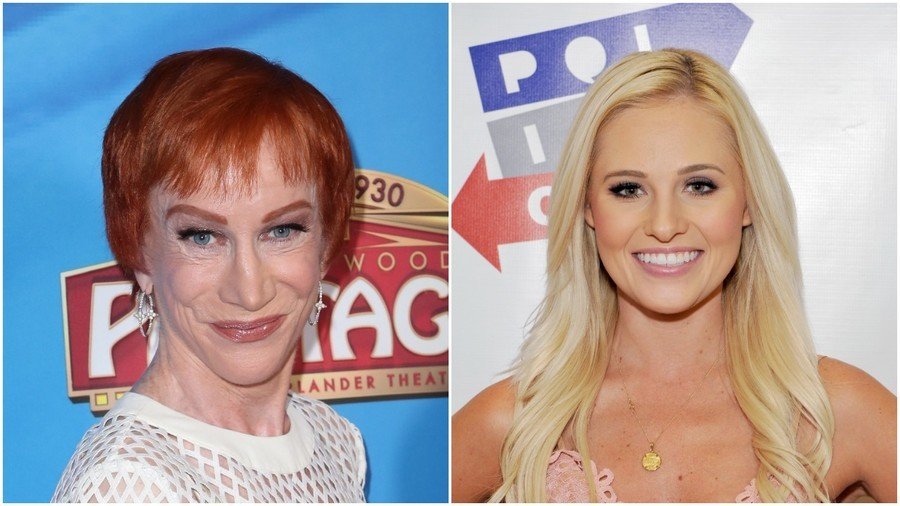 Kathy Griffin has once again blurred the lines of comedy and politics, telling conservative commentator Tomi Lahren to "go f**k herself" after she told Michelle Obama to "sit down" for calling her husband a "great president."
Tomi Lahren, known for her conservative views and former role as a host on The Blaze, lashed out at the former first lady on Twitter earlier this week, referencing comments in which Michelle Obama used the past tense when referring to greatness in the White House.
"Michelle Obama said we 'had' a great president. By what measure? Not in economic growth. Not in border enforcement. Not in strength on the world stage. Sit down, Michelle," Lahren wrote.
Griffin then chimed in, biting back at Lahren by taking aim at her physical appearance and calling her an "evil, horrible shell of a human being."
"Sit down, Michelle" @TomiLahren says....Oh really you dime store Barbie? Mrs. Obama may go high, but I certainly won't. Go fuck yourself, Tomi. You evil, horrible shell of a human being. https://t.co/itEn9Q0Paq

— Kathy Griffin (@kathygriffin) September 24, 2018
Those words came after Griffin tweeted "go f**k yourself" to Lahren earlier this month after the comedian was asked if she would want to be interviewed by the host on the upcoming conservative website Fox Nation.
Griffin is perhaps known just as much for her loudly voiced opinions as she is for comedy. In May 2017, she came under fire from all sides of the political spectrum after posing for a photograph which showed her holding a bloody replica of Donald Trump's head.
The photo drew a response from Trump himself, as well as from the US Secret Service. Even Chelsea Clinton, daughter of Trump's former political rival Hillary Clinton, called the photo "vile and wrong."
Kathy Griffin should be ashamed of herself. My children, especially my 11 year old son, Barron, are having a hard time with this. Sick!

— Donald J. Trump (@realDonaldTrump) May 31, 2017
Griffin apologized in the middle of the controversy, saying she "crossed the line" and made a mistake. However, she later said during an appearance on ABC's 'The View' that she took the apology back. "F**k him (Trump)," she said, prompting cheers from many in the studio audience.
Like this story? Share it with a friend!
You can share this story on social media: