Pompeo promises a 'series of actions' against Venezuela in the 'coming days'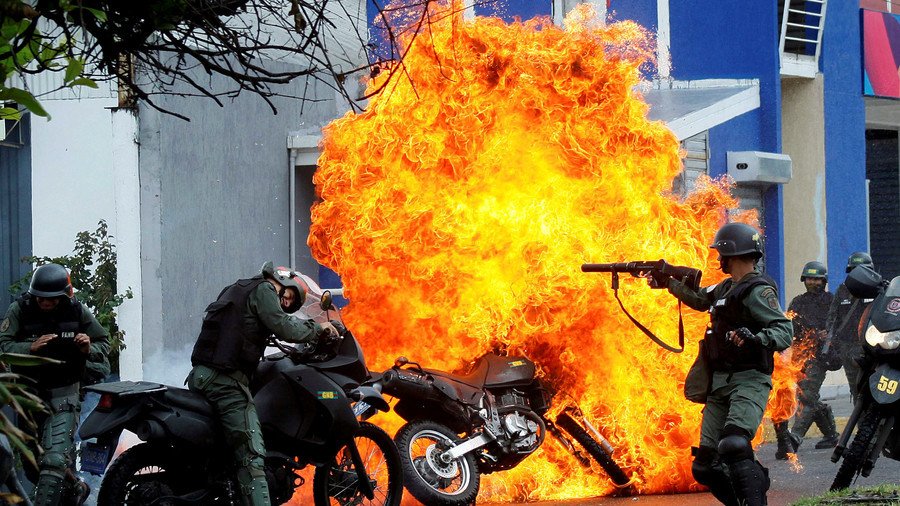 Washington has promised to increase pressure on Venezuela in the coming days, with Secretary of State Mike Pompeo vowing to take a "series of actions" against the government of Nicolas Maduro in the "best interest" of Venezuelans.
Refusing to specify the details of Washington's plan, Pompeo noted that the US is "determined to ensure that the Venezuelan people get their say."
"I think you'll see in the coming days a series of actions that continue to increase the pressure level against the Venezuelan leadership folks who are working directly against the best interest of the Venezuelan people," Pompeo told Fox News.
The Venezuelan leadership has long accused the US of trying to topple the government of Nicholas Maduro. While introducing a number of sanctions against the country's politicians and business elite, the US continues to insist it pursues a "peaceful return to democracy" in Venezuela – although Donald Trump had previously said that his administration is "not going to rule out military option."
READ MORE: 'US role in Venezuela over past 20 years a case of meddling after meddling'
Earlier this month the New York Times reported that US officials had secretly met members of the opposition to discuss action plans to overthrow Maduro. Venezuela's foreign minister, Jorge Arreaza, called it yet another proof of American intervention plans to "help [the] military conspirators against Venezuela." The US National Security Council spokesman Garrett Marquis, however, emphasized that Trump is seeking "a peaceful, orderly return to democracy" in Venezuela, without confirming or denying that such secret meetings took place.
Venezuela has recently seen a wave of protests against the government, amid hyperinflation in the country and the drop in global oil prices, the main export for the Latin American state. Weary of the troubles in the economy, Venezuelans have been fleeing to neighboring countries in droves due to shortages of food and water, as well as soaring unemployment at home.
Like this story? Share it with a friend!
You can share this story on social media: